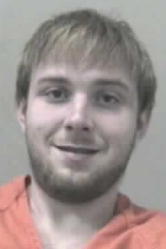 An 18-year-old Calhoun High School student was arrested yesterday at the Mt. Zion campus after he became combative.

Shelby Michael Davis was charged by the Calhoun Sheriff's Department with malicious assault on an officer, manufacturing and delivery of a controlled substance and fleeing.

He is being held in Central Regional Jail on $43,000 cash bond.

School officials called 911 after Davis reportedly created a problem at the end of the school day.

Deputy Bob Groves responded to the initial call, followed by Sheriff Carl Ballengee.

Davis apparently escalated the situation and during the struggle, the officers used pepper spray on him.

Sheriff Ballengee received a shoulder injury in the scuffle and Deputy Groves received an injury to his hand.

Ballengee was taken to Minnnie Hamilton Health Care System by Calhoun EMS. Both Ballengee and Groves were treated and released.

Davis was reportedly on home confinement, but had been attending school.