By Gaylen Duskey
realfang@citlink.net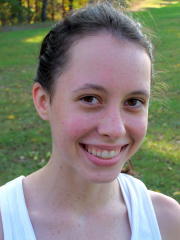 Led by the fourth place finish of junior Anna Sampson the Calhoun girls cross country team grabbed fifth place in the Class AA-A Region IV meet Thursday at Camp Virgil Tate.
With the fourth place finish Sampson made the all-region team and advanced to the state tournament next Friday and Saturday at Cabell Midland High School.
Sampson had a time of 22:29 over the 3.1-mile course finishing behind winner Ally Hoyer of Charleston Catholic, Megan Truelove of Winfield and Nora Sheridan of CCHS. She was only .06 behind the Irish runner.
Sampson was ranked 49th in the state prior to the meet and should move up with her good showing in the regional.
With two of the top three runners Charleston Catholic won the team title with 30 points. Winfield finished second with 50. The first and second place teams both advance to the state meet.
Ravenswood was third with 67 while Scott was fourth with 111, two points better than Calhoun's 113.
Other teams entered include Sherman, Roane, Wayne and Herbert Hoover. Following Sampson for Calhoun was sophomore Tracy King with a time of 28:34 for 29th place. She was backed by Kayla Hixon in 32nd with a time of 28:47; Maria Kisner in 34th at 29:54, Carrie Graffius in 37th at 32:00 and Barbara Richards in 39th at 34:51.
On the boys side Ravenswood ran away with the title by having four in the top 10 and all seven runners in the top 14.
The Red Devils, who have won the last seven straight state titles, had 27 points to blow away second-place Winfield, which had 61. Both teams will advance to the state meet.
Junior Josh Parsons who had a time of 20:17 which put him in 22nd place led Calhoun.
Freshman William Oshe was 36th with a time of 25:15. Calhoun sophomore Cai Clothier was unable to compete because of a leg injury.