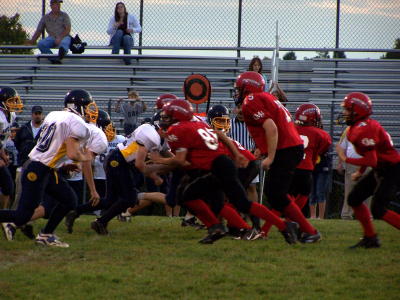 Dan Cosgrove
The Calhoun Middle School Red Devils beat the Clay Mustangs, 20-14 last night, in front of a homecoming crowd of parents, families, and friends.
What most people don't realize is that the game actually started two weeks ago, when during the off week for the players, the coaches were spotted on their way to "scout" a Clay game. It paid off with some great play calling last night. The coaches have done an outstanding job all year working with these young players.
Calhoun won the coin toss and elected to receive. Seth Wease ran the ball 20 yards to the 50-yard line where Calhoun started their first drive.
Derringer Fluharty made 9 yards on 1st down, but fumbled it on 2nd, with the Mustangs recovering.
On Clay's first drive, Cory Metz, Wease and Nathan Cosgrove did not allow them to make a 1st down. Calhoun got the ball back on their own 49.
Fluharty and Justin Yoak moved the ball slowly forward, until looking at a 2nd and 9, on the Mustangs 39-yard line, Fluharty ran it in for the 1st touchdown of the night. Calhoun tacked on 2-points with a pass to Jared Haught. Calhoun was leading 8-0.
After Calhoun's kick, Clay started on their own 43-yard line. Jean Blair, Metz, Fluharty, Wease, and Ricky Hall kept them from making a first down to end the 1st quarter.
The second quarter started with Clay punting the ball for a grand total of 8 yards. Calhoun took over on the Clay's 48-yard line.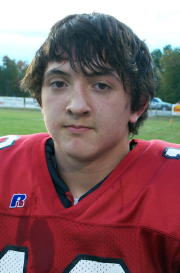 In just a few downs, Fluharty (left) ran it in for another touchdown from 35 yards out. Calhoun took a 14 - 0 lead.
Clay again went 4 and out with stops by Blair, Evan Mace and the rest of the team.
Calhoun started moving the ball, but on 3rd and 5, Clay was able to strip the ball and run it in for a touchdown. Calhoun 14, Clay 6.
With 55 seconds left in the half, Calhoun got the ball back. Fluharty, Weese and Haught moved the ball, but were not able to score before the half ended.
Calhoun kicked to Clay to start the second half. The Mustangs started on their own 30-yard line. They began their march down field. Phillip Norman, Evan Mace, Cosgrove, Metz, Blair and the rest of the team make some great stops, but they were still able to move the ball on 10 downs all the way to Calhoun's 15-yard line. On the eleventh play of the half, they fumbled the ball and Calhoun recovered on their own 10-yard line.
Metz moved the ball 8 yards on two downs, and Yoak ran two more yards for a first down. On 1st and 10 Calhoun was called for a facemask, and on 1 and 15, Fluharty picked up 7 yards. Finally on 2nd down and 8 yards, Fluharty ran 85 yards for a touchdown. The 2 point conversion failed and Calhoun extended the lead to 20-6.
The 4th quarter belonged to Clay; they made a total of 15 plays, made one touchdown, and had the ball for the majority of the quarter. However, when it counted, Calhoun stopped Clay's final drive and took over on downs. With 46 seconds left, Calhoun was able to take a knee to win the game: 20-14.
Highlights: Derringer Fluharty had 201 yards and 3 touchdowns. Jean Blair had some great touchdown saving tackles, and recovered a key fumble, and Cory Metz fought hard for important yards.
Calhoun's record is now 4-3, with the final game on Tuesday, away against Summersville.