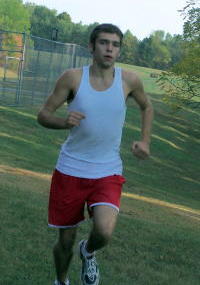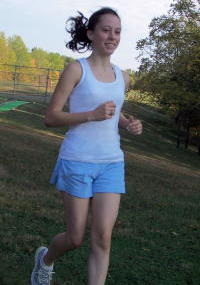 Josh Parsons and Anna Sampson practice run
Wednesday evening for last official meet
Cross Country is like poker. You have to be holding five good cards all the time. - Rollie Geiger, North Carolina State Coach
Running is one of the best solutions to a clear mind. - Sasha Azevedo
I always loved running ... it was something you could do by yourself, and under your own power. You could go in any direction, fast or slow as you wanted, fighting the wind if you felt like it, seeking out new sights just on the strength of your feet and the courage of your lungs. - Jesse Owens
By Bob Weaver
Calhoun High's cross country runners have been utilizing the five S's of sports training - stamina, speed, strength, skill and spirit, with success determined mostly by spirit.
The cross country team is ending its most successful season today, a final meet at Camp Virgil Tate. "It has been a season of consistent improvement, really amazing," said coach Melinda Fitzwater.
Coach Gaylen Duskey said it has been a great experience watching the runners get better, and the overall team spirit.
"We almost lost the cross country team to economics, so it's wonderful to see these guys blossom," Duskey said.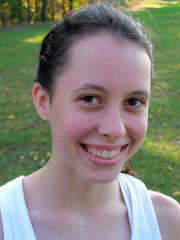 Anna Sampson (pictured left) could be in the top ten runners from the region to go the championships, and if Josh Parson's run falls into play, he stands a chance too.
Sixteen-year-old Sampson said she started thinking about running when she was in the 4th grade.
"It takes great self-determination. It's a great confidence builder," she said.
"I've really liked staying with it, sticking to it - finding something I'm really good at."
Sampson said she would like to find some more students who are interested in running. "It's fun, healthy and rewarding," she concluded.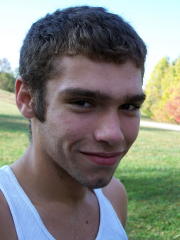 Seventeen-year-old Josh Parsons (pictured left) said he changed from football to running. "I knew I was a good runner," he said, "but I found my slot with cross-country."
"There is nothing like getting into a really competitive spirit and giving it your all," Parsons said.
He said the sport challenges you individually. "You can't blame your teammates if you come up short," he said. "Running challenges you to keep improving in a real way."
"It has raised expectations I have for myself. Besides, it's a great team," he concluded.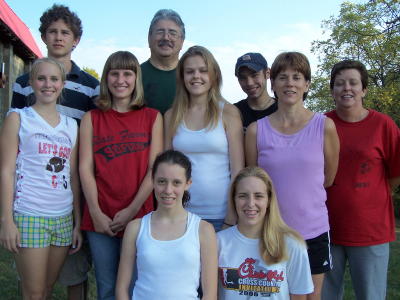 Team at Calhoun Park: Kneeling, L to R Anna Sampson, Carrie Graffius; 2nd Row, L to R Maria Kisner, Tracy King, Barbara Richards, Coach Melinda Fitzwater, Alma Graffius; 3rd Row, L to R Cai Clothier, Coach Gaylen Duskey, Josh Parsons (Some team members not present)