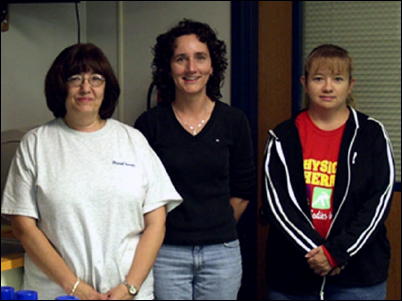 Therapist Debbie Rexroad-Jones, Assistant
Linda Carder and Secretary Becky Wilson
Submitted by Barb McKown
National Physical Therapy month is being celebrated at Minnie Hamilton Health System. On Friday, October 12, 2007 refreshments were provided to all staff who visited the Physical Therapy (PT) department.
National Rehabilitation Awareness Week is the time set aside to celebrate the power of rehabilitation and educate communities about its impact. The week has been held annually since 1976. The goal of National Physical Therapy Month is to encourage the public to learn more about the growing and vital field of physical therapy. In addition, the month recognizes and promotes the dedicated efforts of the approximately 80,000 physical therapists in the United States.
The PT department at MHHS treats a variety of injuries including: back, neck, knee, hip, shoulder and others. The staff includes Physical Therapist Debbie Rexroad-Jones, PT Assistant Linda Carder and Secretary Becky Wilson.
The PT department also houses exercise equipment that is available for community use (minimal fee may apply). For more information on the PT Department, please call 354-9244 or stop by MHHS.