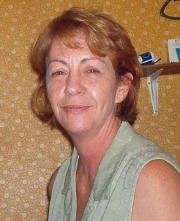 By Janet Siers
304-655-7254
countrymebe@yahoo.com

Well what a wonderful sight to see my son-in-law Ben's Volvo eighteen wheeler in the driveway Wednesday afternoon. Beautiful sunny day and a big Red rig. Clean and shinning. An engine that is 500cc and spotless. Janet Tanner came for a perm and enjoyed talking to Ben and Heather and didn't mind that the truck blocked her way to the house. I was glad that she met them. My Aunt Juanita Knotts Siers is also Janet's aunt.

The next evening while I was giving Dora Starcher a perm, Heather, Ben and Ruby returned to go the the Black Walnut Festival. Tawni, Courtney, Cameron and Jerry brought Tyler over for the week-end with Daddy and I. Every time Dora is here Ruby comes to visit and they like each other. Thank you for the present Dora I keep my photo ID for the salon in it.

We had a great time at the carnival watching Ruby ride by herself. She loved it. Heather had the man stop the worm ride, Ruby looked uncomfortable but she got right on another ride and was fine. We had a late supper at Pizza Hut. Tyler stayed home with Daddy. We had dinner the next day and she showed me how to make blooming onions in the deep fryer that was Ben's grandmothers. They were good but I need to get Vadalia onions.

We have two little pigs, red and white Saddlebacks. Blaine King, Daddy and I are having a bit of a farm co-op. Eggs are at Blaine's and the hogs are here. They're so cute. Put them in sacks in the back floor board of the car. They only squealed a little, we got them home and put them in the ex-chicken house and they are doing great. These game chickens don't want anything to do with a building. They're doing fine, two roosters and a hen. Daddy and I see them everyday. Ray liked the pigs. Heather and Ruby were in the building with them. Heather would catch one and it would squeal. It made me laugh. Then it would calm down and Heather held it up to Ruby and she kissed it on the face.

Thank you Alicia Davisson for the Apple Pie Filling recipe. I had this years ago but lost it and am so glad to get it back. It's good.

God Bless all you caregivers out there. Be as healthy as you can and have a good attitude. Every day is a new day.

O suns and skies and clouds of June,
And flowers of June together,
Ye cannot rival for one hour
October's bright blue weather.
Helen Hunt Jackson [1831-1885]

Looking forward to the thunder storms.

Have a wonderful week!