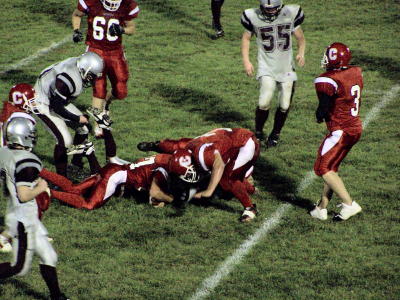 By Roger Propst
Calhoun's Jr. Varsity football team fell to the Roane JV's in a hard fought game at Red Devil Stadium Monday evening.
The 1st half of the game was a defensive struggle with neither team able to dent the other's goal line.
The teams battled back and forth with yardage coming grudgingly.
The Raiders got on the board on their first possession of the 2nd half.
Beginning their drive at the 41 yard line, Roane moved down the field on a keeper to the 25 by the quarterback, then a 1st down at the 15 on a running play.
The touchdown followed on a screen pass over the middle from the 16.
The score went to 7-0 Roane after a successful kick for the extra point. The teams continued to struggle moving the ball and the 3rd quarter ended with the score remaining 7-0 Roane.
Early in the 4th quarter a Roane possession ended like many others, and the Raiders punted to the Red Devils, pinning them at the CHS 17 yard line. The Devils were unable to get the 1st down and were forced to punt. Roane got tremendous pressure on the Calhoun punter, and the result was a 10 yard punt with the Raiders getting the ball at the Calhoun 30 yard line.
The Raiders took six plays to cover the 30 yards, the big play being a pass to the Red Devil two on a 2nd and 14 from the 20 yard line. The Raiders pushed it in from there for a 13-0 lead with 5 minutes left in the game.
The two pointer was good on a reverse and the score was 15-0.
Sean Gungle took the ensuing kickoff back to the Roane 35 yard line, but the drive was thwarted on a fumble recovered by the Raiders at the 46.
The Red Devils were not able to get the ball back, and the game ended at 15-0 Roane County.