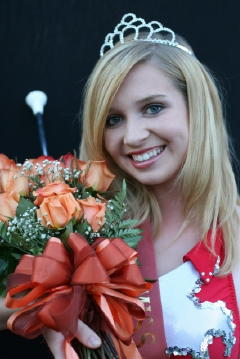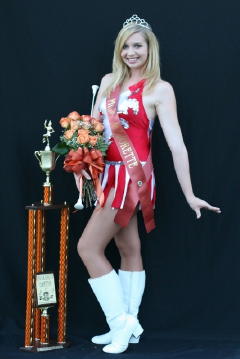 Photos and article courtesy of Patty Haught
The 53rd Annual Black Walnut Festival proved to be an exciting event for one young lady from Calhoun County High School.
Niki Liles was chosen out of more than 50 majorettes as the 2007 Black Walnut Festival Miss Majorette during the annual Black Walnut Festival Marching Band and Majorette Competition held on Saturday.
Liles received the prestigious honor for displaying poise, confidence, showmanship and overall beauty.
Majorettes from regional bands compete. After preliminary judging, each girl poses while the judges pick finalists. Liles was awarded a four foot tall trophy, crown, sash, and a dozen roses.
She is the 16-year-old daughter of Teri Liles of Big Bend and David and Dorothy Liles of Dephos, Ohio.
Niki is a junior at Calhoun County High School and a member of the Calhoun Red Devil Band as a majorette.
Liles expresses her appreciation for support to Teri Liles; Larry, Terry, and Casey Harris; Patty Haught; Sarah Moore and all the majorettes - Chelsey and Shaina; Bridgette Bowen and the CHS band; Jude Binder and Stevi Ryder, 2006 Miss Majorette for passing on her title.