Story and Photos by Drew Moody
The GSC Pioneers made a dramatic come-back Saturday, tying the game with 14-seconds left to play on a James McCants to Jason Burton 9-yard pass. Seton Hill scored on their first play in overtime - a 25-yard passing play; and followed their score with an end zone interception ending the contest.
Seton Hill enters WVIAC conference with a win as well as making history as the first WVIAC game played outside WV since 1932.
Glenville State drew first blood on an Alex Amick 35-yard field goal 12 minutes into the first quarter. The lead was short-lived as Seton Hill answered on their next possession with a 14-yard run into the end zone.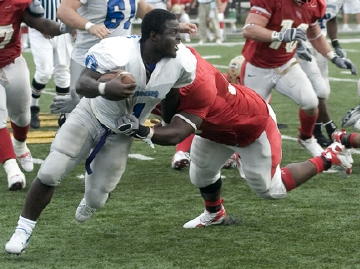 Pioneer's Jerry Seymour lost his helmet on this run
Three more Seton Hill second quarter touchdowns, answered by another Amick field goal - this time from 43-yards out - put the Pioneers behind by 21 at the half.
Statistically Glenville State led in almost all categories, and if the game was decided by "the books" instead of the scoreboard the Pioneers would have won.
The one statistic making the biggest difference was penalties.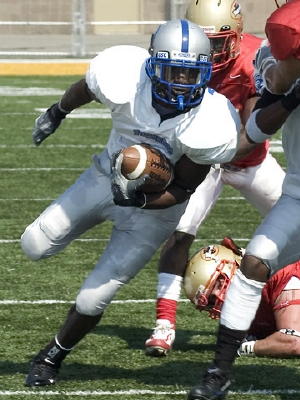 Brian Miles (3) caught eight passes for 97-yards Saturday
Referees blew the whistle against the Pioneers 14 times costing 125 yards, compared to 5 infractions called against Seton Hill setting them back a mere 38 yards.
It was a stunning contrast to the upset a week ago when GSC topped nationally ranked Shepherd at home.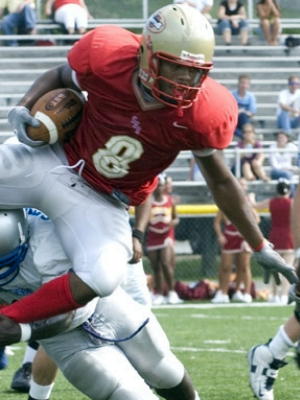 Seton Hill's Matt Johnson gets some
airtime courtesy of the Glenville defense
Despite the deficit the Pioneers didn't give in. With 4:56 left in the third quarter, Jerry Seymour scored on a 3-yard run, making it 27-13.
While holding Seton Hill scoreless in the second half, Quarterback Dwayne Thompson brought Glenville to within seven on 1-yard keeper near the top of the fourth quarter.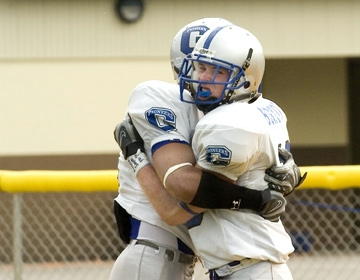 Jason Burton (19) right, is congratulated for
making the catch that put the game into overtime
The tie came with back-up quarterback James McCants 9-yard pass to Jason Burton with 14-seconds left in the game.
Highlights of the game included a perfect field goal/extra point effort by GSC kicker Alex Amick. Gilmer County's Dustan Fox nailed a 66-yard punt during the game.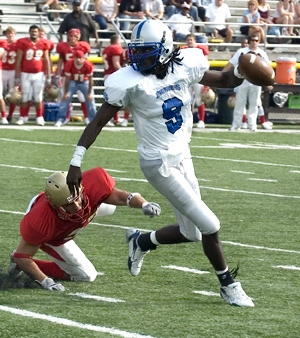 Starting quarterback Dwayne Thompson had to
scramble to avoid being 'sacked' several times
Jerry Seymour (1) gained 183 yards on 34 carries. Dwayne Thompson (9) completed 16 of 26 passes for 172 yards. James McCants (7) completed 7 of 11 for 60 yards. Leading receivers were Brian Miles (3) with a 8 receptions totaling 97-yards and David Russell (21) with 3 receptions totaling 58-yards.
Defensively Ryan Jannak (32) had 11 tackles, Terrell Parker (22) and Jacob Lilly (31) followed with 8 each, and Troy Cloud (4) had seven. Jannak and Cloud had the most individual tackles with 7 and 6 respectively.
The Pioneers travel to Fairmont Saturday, Sept. 29 to take on Fairmont State University. Kick-off time is 6 p.m.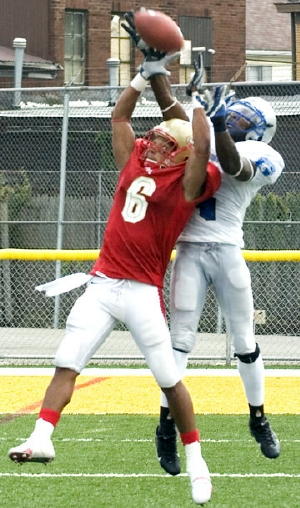 Troy Cloud kept Seton Hill's Derek Thompson
from catching this pass, nearly intercepting it