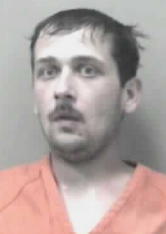 A 27-year-old Arnoldsburg man is in Central Regional Jail for the malicious wounding of his partner and a second charge of contributing to the delinquency of a minor.

A police report says John Fredrick Fisher, whose address is listed as Arnoldsburg, unlawfully and feloniously injured his cohabiting partner on September 17th, with whom he has a child.

"The defendant struck the victim multiple times in the eye, shoulder, arm, leg, upper and lower back." She was taken to Minnie Hamilton Health System for treatment of the injuries.

The incident occurred at a residence on Rt. 5 near Grantsville.

Sgt. Jeff Skidmore of the Grantsville Detachment indicated in the criminal complaint that Fisher intended to maim, disfigure or disable the woman.

Fisher has also been charged with contributing to the delinquency of a minor child by Sheriff's Deputy Justin Metheney.

Police received a complaint on September 5 from a parent regarding her 16-year-old daughter. The complaint says the minor girl received a phone call from Fisher asking her to skip school.

The girl said that Fisher told her not to tell her mother, that he would pick her up at the intersection of Rt. 16 and Daniels Run. The girl then accompanied the accused and another male, Matt Jeffrey, 24, to Speedy Mart to purchase beer, according to the complaint.

The girl told authorities they went to Cabin Ridge near Arnoldsburg to drink beer, the complaint said.