Submitted by Bob Edwards
Public Relations Department Assistant
Glenville State College

Glenville, WV--Almost two hundred acres of forest land in Tyler County is where Bruce Boland calls home. It is a place where Boland can live close to nature. "My water sources are spring water and rain water. I eat as many wild plants as the seasons permit. I frequently have venison for dinner," said Boland. Typical edibles include pokeweed, milkweed pods, blackberries, walnuts, and hickory nuts. Boland also grows a small garden.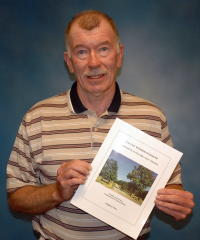 When he is not communing with nature, Boland (left) teaches at several colleges and universities. Boland is an adjunct professor at Glenville State College, where he teaches Physical Geography. He also teaches Geography and Spanish at Fairmont State University's Caperton Center and World Geography at Salem University.
Boland spent the weekend of September 22nd enjoying the 40th anniversary of the Nature Wonder Weekend at North Bend State Park in Ritchie County. Since 1978, Boland has attended all but a few years of the annual event which is sponsored by the West Virginia Division of Natural Resources, The Little Kanawha Regional Council, North Bend State Park, and The National Wild Foods Association. "Nature Wonder Weekend at North Bend State Park is the preeminent yearly gathering of wild food devotees in the nation. Eating wild foods gives one an appreciation of Mother Earth and aids in the commune with nature," said Boland.
Allegheny Press has published a book that traces the history of Nature Wonder Weekend and the people who have been involved in it. Bruce Boland is a contributing author and consultant for the book. He was invited and encouraged by the editor to write a section as one of the longtime participants in the event. "I hope reading the 40th anniversary book about Nature Wonder Weekend is as much fun as participating in the activities has been for me," said Boland. The book is 112 pages with more than fifty full-color photos. Orders for the 500 numbered, limited addition copies can be made by contacting Allegheny Press at (814) 664-8504.