By Gaylen Duskey
realfang@citlink.net

Although Calhoun didn't win any team or individual championships it still was a benchmark day for the Red Devils.

That's because every runner posted individual best times in the Knights Invitational at the Tyler County Fair Grounds over the weekend.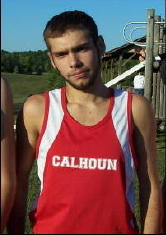 Leading the way for the Red Devils was Calhoun junior Josh Parsons (left) who finished 27th in the event which was dominated by several Class AAA schools.
Parsons had his first 20-minute clocking over the 3.2-mile course with a 19:35, which was less than three minutes behind winner Stewart Jones of Weir High School.
A really good showing.
Calhoun's other two high school boy runners also had personal bests.
Sophomore Cai Clothier was 61st with a time of 22:08 while freshman Will Oshe was 78th with a time of 24:25.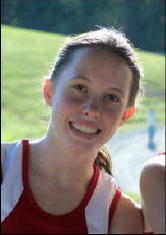 Calhoun's only award winner was junior Anna Sampson (left) who was 18th in the girl's division with a time of 23:24.
Other Calhoun girls and their times were freshman Tracy King, who was 42nd with a time of 26:52; junior Maria Kisner, who was 43rd with a time of 26:58; senior Kayla Hixon, who was 52nd with a time of 28:01 and junior Carrie Graffius, who was 56th with a time of 29:15.
Junior Barb Richards suffered a knee injury during the race and was unable to finish.
As a team Calhoun finished eighth with 163 points, just six points behind host school Tyler Consolidated with 157.
On the middle school side sixth-grader Cheyanne Oshe was 39th with a time of 16:28 over the two-mile course.
On the boy's side sixth grader David Overbay took 34th with a time of 18:52.
Calhoun returns to action Tuesday in the Gilmer Invitational at Cedar Creek State Park. The meet gets under way at 4:30 p.m.