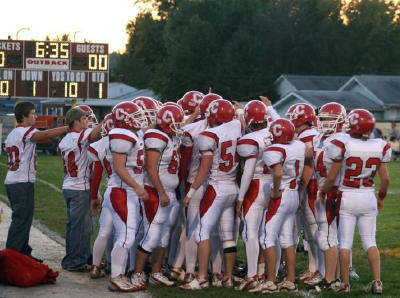 Hopeful Red Devils before Williamstown game
(Photos courtesy of Patty Haught)
By Gaylen Duskey
realfang@citlink.net
Against a team as big and talented as Williamstown you can't make any mistakes.
Unfortunately, Calhoun did Friday night and the result was a 33-8 thumping at the hands of Williamstown in a game that was actually closer than the score may indicate.
What did in the Red Devils, now 4-1 and ranked 12th in the upcoming rankings to be released Tuesday, was problems with the punting game as Williamstown blocked two kicks and returned a third for 80 yards and the first score of the game.
After that a blocked punt gave Williamstown a short field to operate on and that led to the Yellowjackets second touchdown and a 14-0 first quarter lead.
Interestingly the Red Devils out gained Williamstown in the first half 113-84.
But the miscues gave Williamstown the opportunity and it took advantage.
The Jackets took advantage of another Red Devil error in the second quarter when an offside penalty deep in Calhoun territory turned a field goal attempt into a first down.
Cameron Powell made the Red Devils pay when he scored from six yards out his third touchdown of the night and a 20-6 lead.
In the second half Calhoun drove the ball a couple of times early but the Jackets got behind their big offensive line and bulled down the field for two more scores and a 33-0 lead.
Calhoun got on the board late in the contest when Zack Yeager recovered a fumble to set up Matt Houchin's 19-yard scoring pass to Chance Hardway.
Houchin added the extra points on a run.
Overall Williamstown only out-gained Calhoun 267-202.
Houchin had the majority of the Red Devil's offense with an 11-25 passing night for 146 yards.
Josh DeWeese was his favorite target with 89 yards on five receptions.
Jeff Goodrich led the running attack with 41 yards on 18 carries.
Calhoun returns to action Friday night when it travels to Lost Creek to take on South Harrison, a team which lost 31-6 to Williamstown.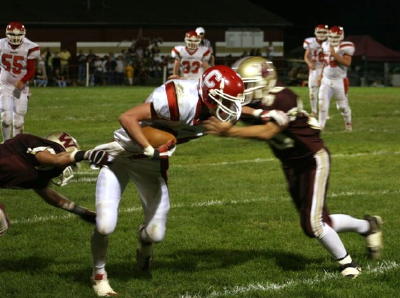 Josh Deweese carries ball downfield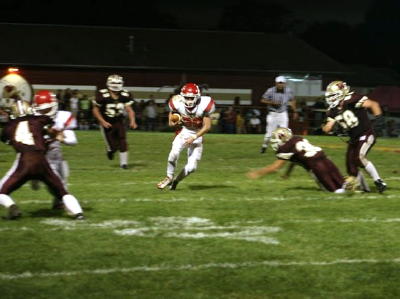 Jeff Goodrich works for yardage