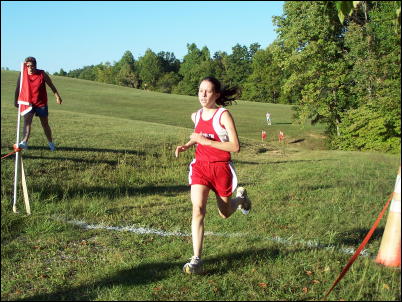 Calhoun runner Anna Sampson leads the pack for high school girls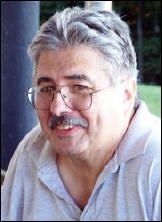 Submitted by Assistant Coach
Gaylen Duskey (pictured right)
On a brilliant blue day Calhoun junior Anna Sampson was a shining example for the Red Devils as she breezed to victory in the Calhoun Invitational Tuesday afternoon at the Calhoun County Park.
Sampson covered the 3.2-mile course in 25:27 to beat the second place finisher by more than a minute.
On the high school boys side Calhoun's Josh Parsons was fourth with a fast time of 21:07.
The most dominating performance probably took place in the middle school girls run when Makayla Shamblin of Elkview had a blistering time of 11:42 over the two-mile course to beat the second place finisher by almost two minutes.
On the boys middle school side Zach Morgan of Doddridge won with a time of 13:12, :16 better than teammate Dillon Muhley-Alexander.
Sampson was backed by fellow junior Maria Kisner, who had a time of 30:38.
Other Calhoun runners included Kayla Hixon (31:13), Carrie Graffius (33:52), Tracy King (34:09) and Athena Wagner (38:44).
For the boys Cai Clothier back Parsons with a time of 25:58 while Will Oshe had a time of 27:27.
Roane's Randy Price won the event with a time of 19:44.
Calhoun's David Overbay had a time of 22:14 in the middle school boys race while Cheyenna Oshe finished at 18:28.
Teams at the meet included Herbert Hoover, Roane, Gilmer and Calhoun high schools and Gilmer, Doddridge, Geary, Elkview and Calhoun middle schools.
Calhoun returns to action Saturday in the Silver Knights Invitational at Midleborne.
Following the meet, the runners, coaches and drivers were treated to a hot dog feed.
Coaches Melinda Fitzwater and Galen Duskey.
MIDDLE SCHOOL AND HIGH SCHOOL RUNNERS TAKE-OFF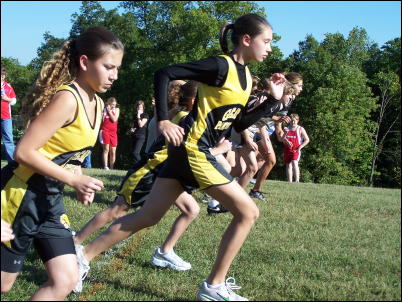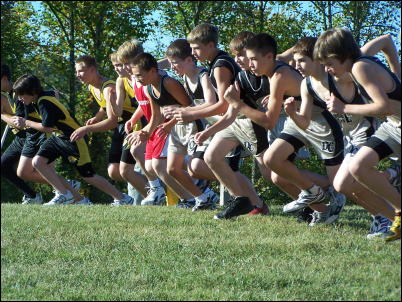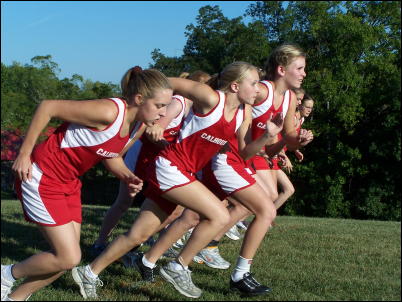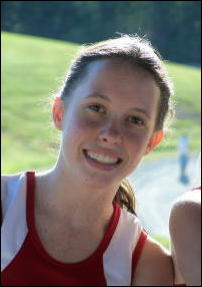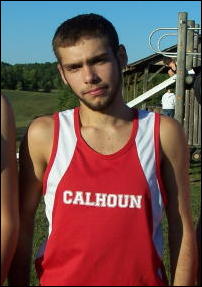 Anna Sampson and Josh Parsons
High School Girls: Individuals
1. Anna Sampson, Calhoun, 25:27
2. Alexis Kitzmiller, Herbert Hoover, 26:28
3. Emily Mohr, Herbert Hoover, 29:09
4. Maria Kisner, Calhoun, 30:38
5. Kayla Hixon, Calhoun, 31:13
6. Carrie Graffius, Calhoun, 33:52
7. Tracy King, Calhoun, 34:09
8. Rachel Mack, Herbert Hoover, 34:53.0
9. Maggie Cavender, Roane, 34:53.3
10. Athena Wagner, Calhoun 38:44
High School Boys: Individuals
1. Randy Price, Roane, 19:44
2. Justin Fisher, Roane, 20:26
3. Chris Jones, Herbert Hoover, 20:37
4. Josh Parsons, Calhoun, 21:07
5. Jeremy Hall, Roane, 22:12
6. Kyle Crichfield, Roane, 25:48
7. Cai Clothier, Calhoun, 25:52
8. Jacob Rhodes, Herbert Hoover, 25:58
9. Will Oshe, Calhoun, 22:27
10. Skye Parrish, Roane, 27:35
Middle School Girls:Individuals
1. Makayla Shablin, Elkview, 11:42
2. Bethany Carroll, Doddridge, 14:13
3. D'Andre Swiger, Doddridge, 14:13
4. Melissa Ashman, Geary, 16:17
5. Shannon Davis, Doddridge, 16:49
6. Justice Ingram, Doddridge, 17:29
7. Geri Stanley, Doddridge, 17:41
8. Melanie Jett, Doddridge, 18:18
9. Rachel Casteel, Doddridge, 18:26
10. Courtney Cutlip, Geary, 18:27
11. Cheyenne Oshe, Calhoun, 18:28
12. Elaine Ashman, Geary, 18:36
13. Cazzie Shefford, Geary, 18:37
14. Allegra Davis, Doddridge, 18:54
Middle School Boys: Individuals
1. Zach Morgan, Doddridge, 13:12
2. Dillon Muhley-Alexander, Doddridge, 13:28
3. Ian Spencer, Doddridge, 13:51
4. C.J. Henline, Doddridge, 13:56
5. Brad Reichard, Geary, 14:12
6. Caleb Moore, Doddridge, 14:16
7. Matt Zorn, Doddridge, 14:19
8. Matt Coleman, Geary, 14:57
9. Richard Dorsey, Gilmer, 15:01
10. Jacob LeMasters, Geary, 15:17
11. Conner Ferguson, Gilmer, 15:45
12. Michael Helmick, Geary, 15:48
13. Joel Reed, Geary, 15:56
14. Kevin Dotson, Doddridge, 16:22
15. Walker Trent Doddridge, 16:35
16. Joe Sperert, Doddridge, 16:39
17. Caleb Ferguson, Doddridge, 19:28
18. David Overbay, Calhoun, 22:14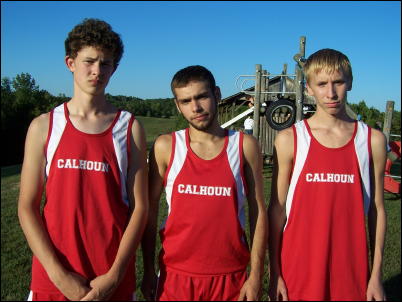 Calhoun Boy's Cross Country: L to R - Cai Clothier, Josh Parsons, Will Oshe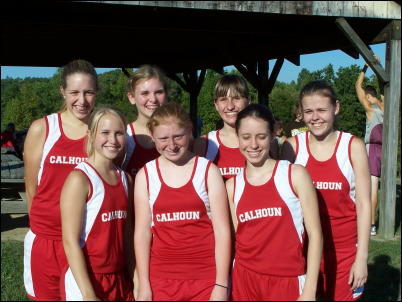 Calhoun Girl's Cross Country: L to R - Maria Kisner, Athenia Wagner, Anna Sampson; Back Row: Carrie Graffius, Kayla Hixon, Tracy King, Barbara Richards