By Bob Weaver

C. W. "Mac" McDonald came to Calhoun thirty years ago as a State Trooper. He stuck around for thirty years and retired in December from his position as a Calhoun Magistrate. He was a policeman for twenty-one years, a magistrate for eleven.

"I spent 15 years in Calhoun as a trooper. I guess they sorta forgot me in Charleston and I got to know the people and the area. I didn't want to leave," he said. McDonald said he put both of his children through Calhoun schools. "It really worked out for me, my wife and family."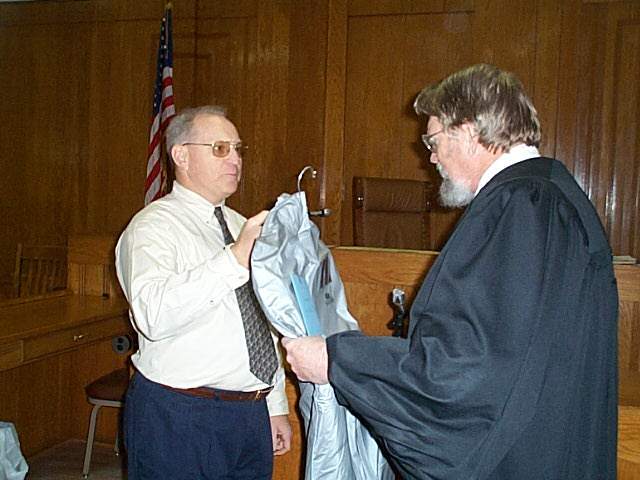 McDonald receives retirement gift from Judge Charles Mc Carty

"Seems like I've got a lot of time on my hands. Since I've got the Lord in my life, I intend to spend more time doing His work," he said.

He recalls well the day he saw Sheriff Park Richards gunned down, an unforgettable event, and "I remember well investigating the murder of George Duskey of Richardson in the 70's. We were able to catch his four murderers very quickly." McDonald recalls being involved in mine strikes and prison riots during his law enforcement career.

"I suppose I've made a few people angry as a magistrate, but I tried my best to be fair and equal." He said being a magistrate is very binding. Six months of every year you're really on the hook. "I've worked with some wonderful people. That has made it really worthwhile," he said.

"Calhoun County is my home," he concluded.