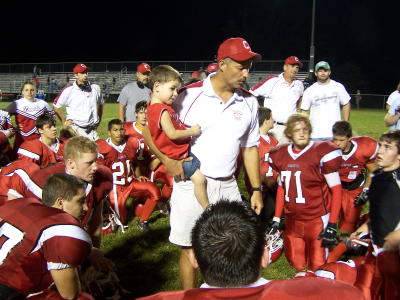 Head coach Bryan Sterns and his son review
the game in last night's Winner's Circle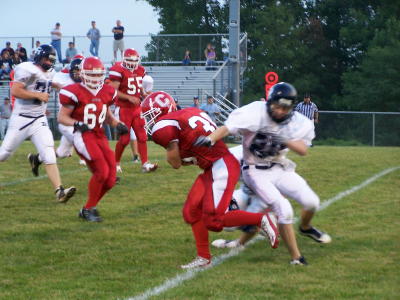 Jeff Goodrich back steps across goal line for games first TD
By Jim Sullivan
The Calhoun County Red Devils brought their record to 2-0 with a 38-0 romp over Ritchie County Rebels Friday evening at Calhoun Middle-High School Stadium.
The Red Devils hit pay-dirt early in the first quarter to make it 7- 0. It became a defensive struggle until late in the second quarter when Calhoun Scored 2 touchdowns and a 2 point conversion to make it 21-0 at the break.
Early into the third quarter the Rebels found themselves backed up to the goal line when Calhoun forced a safety. Ritchie was unable to move the ball and Calhoun tagged on another safety and two more touchdowns to make the final score of 38-0.
Rushing: Jeff Goodrich had 179 yards on 19 carries and 2 touchdowns, Matt Houchin had 23 yards on 9 carries, Caleb Hart had 87 yards on 9 carries, Jeremy Conley 4 yards on 2 carries, Randy Fluharty, 8 yards on 1 carry, Nick Stevens, 11 yards on 3 carries, Ben Laughlin, 5 yards on 1 carry and Sean Gungle 1 yard on 2 carries.
Quarterback Matt Houchin had 9 completions on 14 attempts for 138 yards, 1 - 2 point conversion, 2 touchdowns and was intercepted 1 time.
Receiving: Roman Rader had 2 catches for 46 yards and 1 touchdown, Josh Deweese had 3 catches for 59 yards and 1 touchdown and Chance Hardway had 3 catches for 33 yards and 1 - 2 point conversion.
Calhoun allowed 58 yards rushing and 16 yards passing for the evening.
The Red Devils will go on the road next Friday evening to battle Doddridge County. The game will start at 7:30 p.m.