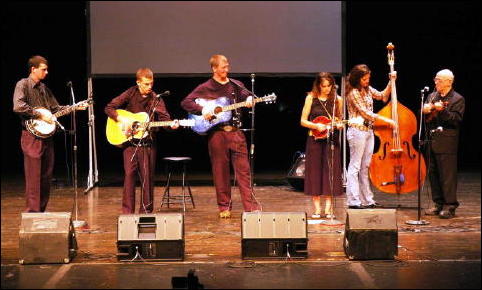 The Glenville State College Bluegrass Band is among the
groups scheduled to perform a the Grand Ole Bluegrass
Mini-Festival on September 7 and 8 at GSC's Fine Arts Center
Glenville, WV — Bluegrass musicians and fans are planning to gather at Glenville State College in early September to enjoy a good time for a good cause. The Grand Ole Bluegrass Mini-Festival will take place on September 7 and 8 at GSC's Fine Arts Center. Proceeds from the event will benefit the GSC Bluegrass Music Certificate Program.
GSC's Cultural Events Director and Bluegrass Music Certificate Program Director, Buddy Griffin, who is a Sutton native says seven groups are scheduled to perform both days. "We are pleased to have scheduled performances by the GSC Bluegrass Band, The Sheppard Brothers, Mountain Fury, Once Blue, Laurel Creek, Little Mill Creek Boys, and New Ground" said Griffin.
The Friday show will take place from 7 p.m. until 10:45 p.m. Saturday's performances are scheduled to get underway at 1 p.m. and last until about 4:45 p.m. They will be followed by a free Saturday night Pig Roast (with paid admission to the afternoon show) and a free evening Bluegrass Jam Session both starting at 7 p.m. under the stars in front of the Fine Arts Center.
Admission is $10 per day, but a two-day pass purchased in advance cost only $15. For more information, call (304) 462-7130.