By Alvin Engelke

Linda Buchanan, wife of Gary Buchanan of Bear Fork (a branch of Little Creek), narrowly missed death when her automobile was struck by an empty oil field cement truck Wednesday evening near the old Cedar Hill School (the Les Arnold residence) on Route 5. Formation Cementing of Zanesville had done a job for Buckeye Oil on Norman Ridge and the bulk truck was heading north in the curve. Apparently the driver lost control and the truck bounced sideways and the duals hit the Buchanan vehicle flattening it. The truck proceeded on, hit the bank, crossed the road again, took out an evergreen tree and ended up against a stump in a hole heading back toward Creston. At the last one of the tire chains came off the hanger and ended up under the tire.

The Jaws of Life were used and after 45 minutes Linda was extricated. She was taken to Parkersburg and then life flighted to Charleston where she remains in the intensive care unit of CAMC with numerous broken bones, a punctured lung and a bruised heart. She was on her way home from her employment at the Bureau of Public Debt.

William G. Geouge, Jr., age 85, of Burning Springs passed away. A veteran of World War II, he had been very sick for some time. He is survived by his wife Grace I. Monroe Geouge and one daughter.

Rev. Bob Stanley filled his regular appointment at the Burning Springs M. E. church.

Roger Longfellow was seen squiring a comely blonde at the benefit at Ground Hog Saturday afternoon.

Mr. and Mrs. Jack Boggs were calling at the Radcliff residence on the Umstead Ridge.

The Smiths are building a new cabin down near the mouth of Fishpot.

Mr. and Mrs. Don Rhodes were helping Mr. and Mrs. Carl Ferrell move some building materials.

Some have wondered "why God would allow the terrorists to strike in New York and Washington" but others noted that God has been banned in schools, Court Houses and government buildings for some time thanks to liberals, new age folks, etc.. One fellow noted that he heard a prayer offered at a ball game recently and that made him feel much, much better.

The New Yorker reported that recently an agency of the U.S. government gave the Taliban $45 million not to grow opium poppies. Being "all round nice guys" they no doubt complied with the "no dope" deal. This may have been one of the "enlightened" approaches to dealing with drug problems.

After Flight 800 was taken down, Albert Gore, Jr. convened a panel on beefing up airport security. There were several key recommendations that would have been very effective but would have slowed down boarding times, etc. and some objected. After the contribution of $585,000 to the Democratic National Committee the airport security proposal was dropped.

There will be a meeting on growing ginseng (sang) October 11 from 6 until 8 at the fire station in Arnoldsburg. Dave Cook and Fred Hays will give tips on growing the high dollar product to fetch maximum return. Woods grown sang is said to fetch about $1000/lb when exported to China. It was noted that the chief exporter of W. Va. sang had an office in the World Trade Center and has not been heard from since the attack.

One little fellow was somewhat concerned that papaw was going to be called up for the new war. He understood that young soldiers usually fought wars but he wasn't too sure about "old men". He told papaw that, if he had to go he hoped he would come back but, if he didn't, he wanted to know if it would be all right if he got his four wheeler.

A number of local oil and gas operators attended the meeting held by the Oil and Gas Division at North Bend State Park concerning the TMDL study on the Little Kanawha River. Several local companies won awards for good well roads and locations, including CAD Energy, Prime Operating (Sterling), Emory Smith, Francis Cain, Morris Oil and Gas, Creston Oil Corp. (Jim Morris), R & A Production, Eastern American Energy Corp. etc.

Nancy Engelke was consulting with Dr. Meyers at Mount Zion.

The Creston area had beautiful weather over the weekend and many were out enjoying the scenery. There were many four wheelers on the Richardsonville road.

It has been learned that there is a plan afoot to have state wide zoning which would require permits for all buildings, even farm buildings, and they would all have to meet federal building codes. Among other things this would provide big jobs for some bureaucrats and would prohibit the construction of pole buildings, etc. One would think with a war on our hands these folks would have better things to do.

The merger of Meade and Westvaco has caused some local concern. Westvaco is the area's largest landowner and they have a significant impact on the region.

There has been more than a little concern over seismic work on property where the testing company does not have permission to prospect for the benefit of others. Great Lakes Geophysical said if one had a problem one could contact Anette Evans up in Michigan. However, when Ms Evans was contacted she said she wouldn't tell who was having the test run and she wasn't much concerned about checking out other folks minerals without permission. Seems some folks just decided to hide behind her skirts. Some time back some Arabian fellows were checking out Roane County so, perhaps, such too is the case now.

Dominion Resources has announced that the gas that had been flowing north in their transmission lineTL-30 will be redirected south, apparently in anticipation of the deep wells that shortly will be put into the line on Mill Seat in Gilmer County.

Nancy Engelke was attending to business in Clay and fetched back some culinary delights from the Golden Delicious Festival.

C Romeo Griffin Jr, JP, RP, & AC Marks were among those calling on Debbie and JB Griffin.

Someone set a cute little lemon colored Beagle - looking puppy out at Rt 5 and Sanoma Road, Saturday night. It found a home on the front porch at the Griffin residence. If anyone would like to adopt "Sadie", the number there is 275-0922.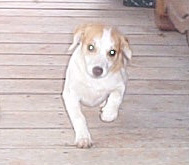 "Sadie"