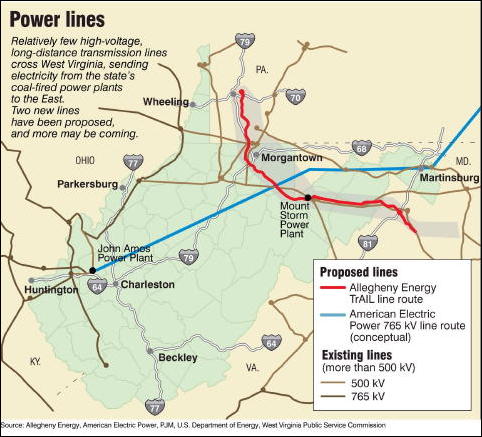 By Bob Weaver
A straight-line map is showing the construction of a gigantic $3 billion electric transmission line through Calhoun County.
The latest rendition in the Charleston Gazette shows the line between the John Amos power plant and a Maryland distribution center, running through the county.
The Herald published a map in February, 2006 indicating the possible location of the power line through Roane, Calhoun and Gilmer. Developers say the exact right-of-way has not been determined, although there is a 2,200 foot margin.
Another such project in eastern West Virginia is causing a major stir. Allegheny Energy spokesman Allen Staggers said he is not surprised about the mounting opposition to the project.
The power line is shaping up to be the most contentious case to hit the West Virginia Public Service Commission in years.
The 550-mile line will go from the John Amos Power plant at St. Albans to New Jersey.
The project is expected to be completed by 2014.
American Electric Power is one of the largest electric utilities in the United States, delivering electricity to more than 5 million customers in 11 states.