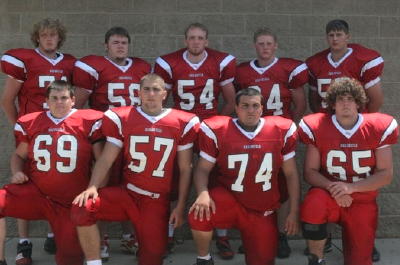 DEFENSE - Front (L to R) Drew Williams, Tim Sutro, Ray Phillips,
Chris Mace; Rear (L to R) Jacob Haught, Zach Yeager, Cody
Cunningham, Christian Cottrell, Danny Slider(Photos by Patty Haught)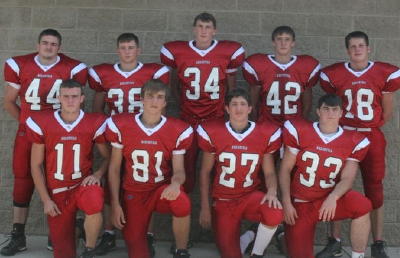 OFFENSE - Front (L to R) Roman Rader, Aaron Yoak, Randy
Fluharty, Jeremy Conley; Rear (L to R) Caleb Hart, Jeff
Goodrich, Josh Deweese, Chance Hardway, Matt Houchin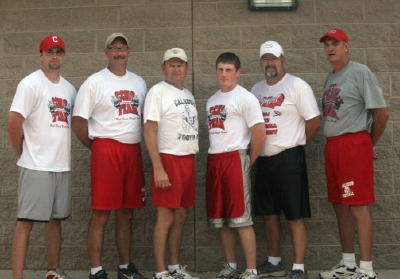 RED DEVIL COACHES (L to R) Adam O'Harrow, Bryan Sterns (head
coach), Doyle Hupp, Jason Cunningham, Jeff Houchin, Mike Stump
By Gaylen Duskey
realfang@citlink.net
It's almost football season which means its football prediction time for know-it-all folks like me.
The question here is how with the Mighty Red Devils of Calhoun High School do this fall?
The answer? Calhoun could go 10-0. But that may be dreaming. Or it could go 0-10. No, forget that one. Calhoun plays Gilmer so it won't be 0-10. But the most logical answer is somewhere in between.
Let's take a look at the upcoming season to see what we mean:
* Gilmer County - Calhoun opens the season with the Titans and if the Red Devils struggle any and I mean any, it could be a long season. This should be the easiest win of the year for the Red Devils. Score it a W.
* Ritchie County - Folks are saying "watch out for Ritchie" that the Rebels are a lot better. Hey, they'd have to be a lot better. An awful lot better. Last year the game was a fluke with Ritchie scoring some gift touchdowns to make it look close. It wasn't that close and Calhoun, hopefully, won't be in such a giving mood this year. Chalk up another W.
* Doddridge County - The biggest problem is that Calhoun has to travel to West Union for this game and for some reason Doddridge seems to give the Red Devils fits up there. Calhoun has more talent and they are a lot tougher than the Bulldogs. Doddridge may make things interesting but unless Calhoun turns the ball over umpteen times like it did in its last visit to West Union then this is another W.
* Parkersburg Catholic - This should be an interesting game. Calhoun has more talent than the Crusaders and finally beat PCHS to get the monkey off its back last year. But PCHS always plays smart and just waits for the other team to mess up. Should Calhoun cut down on its mistakes it should handle PCHS rather easily. Should it make too many mistakes then PCHS' disciplined approach could spell an upset. But let's just say Calhoun avoids the mistake. Another W.
* Williamstown - By this time people are looking at that 4-0 Calhoun record and seeing Williamstown struggling a little bit may think "this is the year we get those guys." Maybe. But probably not.
Williamston, you see, doesn't rebuild. It reloads.
And why is Williamstown so good anymore? Several reasons. First it is a huge Class A school. Second it is a compact school district.
Third, it is of a higher socio-economic class than just about every team in the LKC. Those things mean that the Yellowjackets have a lot of talent to choose from, no geographic reasons not to practice and a strong group of parents and boosters.
That means Williamstown will always be a power. Regrettably, this one probably is an L. * South Harrison - This game could be interesting. South Harrison is supposed to be loaded and the game is at Lost Creek. Those two things could make it a tough match. Myself, I feel that the close score of last season's 8-6 win over the Hawks was the exception and not the rule.
I don't think that game was a close as the score indicated. And I still feel Calhoun has the talent to slug it out with the Hawks. It all comes down to which team wants it more. I think Calhoun does. This could be a tossup, but I'll go with a W.
* Roane County - You know these guys don't make the blood boil near as much as Spencer did. But I guess Roane will have to become something like Spencer Lite or maybe Walton on steroids.
Either way the Maroon and White is not near as evil as the Blue and Gold was. All that said, Roane has a lot bigger school and a lot more opportunity for talent.
Roane is always tough for the Red Devils and playing in Spencer just makes the Raiders tougher. This one I'll have to go with a T (for tossup).
* Wirt County - Last year's loss to Wirt was a fluke. Calhoun played the worst third quarter in school history and still almost pulled things out.
This year the only thing the Tigers have going for them is that it is Calhoun's homecoming and Calhoun usually is awful in homecoming games. I don't think it'll be close. A big W.
* Braxton County. Braxton was awful last year. I don't see any major changes there. The Eagles will be tougher (frankly it'd be difficult for them to go the other way) and the game will be at Flatwoods. Still, I see another W.
* St. Marys - Here is the most over-hyped team in the state, or at least the area. It does have talent, sure, but people keep talking about the Blue Devils in the same breath as Williamstown or Wheeling Central.
Well, excuse me, but NO. This is a good Class A program and a good Class A team. St. Marys has a two-game winning streak against the Red Devils. Look for that to end when the Blue Devils travel to Mount Zion. Another W.
If you've been counting that should be a record of 8-1-1 (with the last 1 being a tossup).
If you go by talent alone then Williamstown is the only team more talented than Calhoun. Roane, St. Marys and South Harrison are all very close talent-wise while Wirt and PCHS aren't too far behind. The rest? Not close.
Games are not won on paper and footballs do take strange bounces because they have pointy ends.
But if I were a betting man I'd say Calhoun, if it plays to its potential, should make the playoffs.
And that would be nice.