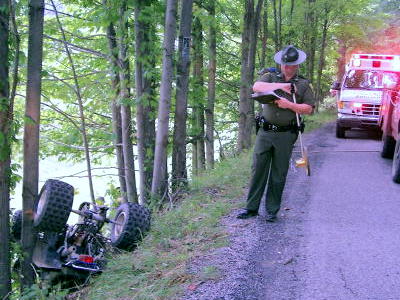 Trooper 1st Class Jeff Hunt investigates fatal crash
A-22-year-old Millstone man died Monday evening when his ATV struck a tree, catapulting him about 40 feet over a steep hillside.
His name is being withheld until Tuesday morning, pending notification of next of kin.
Co-workers said the man had been working with them at a drilling operation in Clay County, and they had let him out of their vehicle on the left fork of Crummies Creek, after which he got on his 4-wheeler.
The accident happened abut 4:30 p.m. on a hill leading out of Crummies Creek, just off Sand Ridge/US 33-119.
Authorities said he died on-scene.
Trooper 1st Class Jeff Hunt is investigating the accident with Medical Examiner Ed Messenger.
Calhoun EMS and the Arnoldsburg Volunteer Fire Department responded to the scene, located at Alton "Ding" Altizer's farm.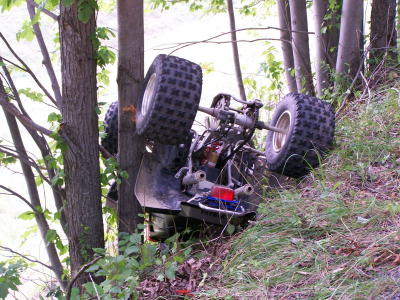 ATV strikes tree on Crummies Creek Hill, just off Sand Ridge