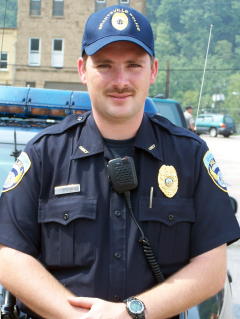 Chief Charles Stephens
The Town of Grantsville has a new police chief.
Mayor Gary Knight has appointed Charles R. Stephens of Russett to the position.
The 27-year-old Stephens previously worked for the Santa Rosa Sheriff's Department in Milton, Florida, where he was a deputy sheriff and training officer.
Stephens has moved to Calhoun to be near his wife's family.
His father-in-law lives at Russett and his wife's grandparents reside at Mt. Zion.
He and his wife Jessica have two children, Hannah, 4, and Jonathan, two.