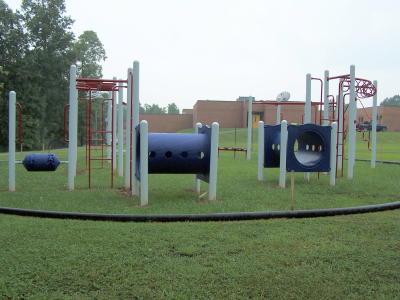 The Pleasant Hill School PTO is looking for some extra funds to complete a new playground erected behind the school.
The PTO received a $2,000 grant from the Parkersburg Area Community Foundation for the project.
Other donations have been received: Aging with Grace, $200; The school's Partner in Education, Minnie Hamilton Health System, $800; Candle Creations of Buckhannon is providing $1,500 in rubber mulch product.
"In an effort to provide the safest playground experience for our youngsters, the Pleasant Hill PTO plans to complete our new playground with the latest rubber mulch safety surfacing product," said Donna Richards.
It has many benefits over traditional wood chip products, and will outlast any other loose surfacing material.
A local distributor has been found in Buckhannon. The project will need 700 bags of Majestic Rubber Mulch to conform to the ANSI standard of depth per critical fall height.
"In return for our large purchase, The distributor is willing to provide 150 of those bags free of charge, and arrange to have the product shipped directly to Grantsville, thus saving any additional transportation costs," said Richards.
The remaining 550 bags need to be purchased at a cost of $9.99 each. This will be provided tax free for the school.
"Here is where you can help. Your tax deductible contribution, made out to Pleasant Hill School PTO/playground, will serve to purchase bags of rubber mulch to be installed beneath the play equipment. All labor will be donated. With the help of the community, we can have the new playground ready for start of the 2007-2008 school year," she said.
The Calhoun Board of Education has recognized Neil and Donna Richards for their hard work in coordinating the installation of the new playground equipment.