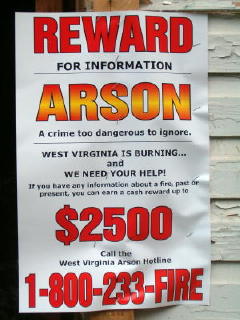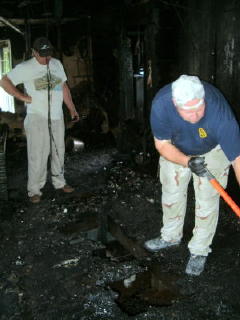 The State Fire Marshal's office is asking residents
who have information about county fires to call the
Arson Hotline. Assistant State Fire Marshal Jason
Baltic sifts though ashes of Sunday's Grantsville fire
By Bob Weaver
An all-time record of fires has struck the county within the past year.
The West Virginia State Fire Marshal's office said yesterday that arson caused the destruction of a two-story house early Sunday morning on River Street in Grantsville.
Assistant State Fire Marshal Jason Baltic spent two days combing through the debris. The house was owned by Ilene Cox, and was a total loss.
Kim O'Brien with the Fire Marshal's office said a $2,500 reward is offered to anyone who provides information that leads to the arrest of the arsonist. Individuals can call the toll free hotline at 1-800-233-FIRE.
"There has been a record number of fires in Calhoun," O'Brien said.
The River Street fire was one of at least six fires investigated by the Fire Marshal's office in Calhoun during the past four months, said O'Brien.
"The Fire Marshal's office has ruled three of the fires as arson," including a fire in May between Main and Wigner Street and a truck fire last February on Johnson Street.
"We understand a person who is associated with the Johnson Street fire is known to the police, and has been or will be arrested," O'Brien said.
A major fire that destroyed or damaged several properties between Court and Hardman Street in May was declared suspicious and is still under investigation.
The office has ruled that the cause is undetermined where two houses burned on Mud Fork within 24-hours in April, and the July 16th fire at the King house on Letherbark.
More to follow...