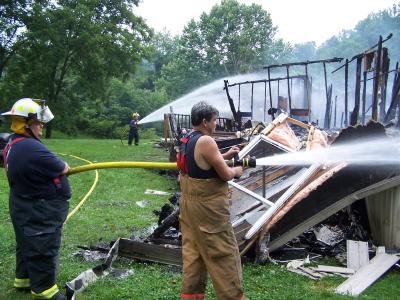 Arnoldsburg and Upper West Fork firemen
use huge amounts of water on West Fork fire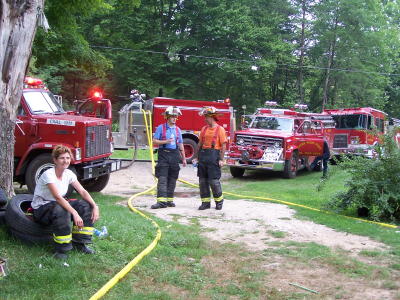 After about four hours on scene, firemen looked weary
By Bob Weaver
Fire completely destroyed a modular home between Rocksdale and Richardson along the West Fork yesterday afternoon, leaving a family without possessions and homeless.
The house was placed on the property in 2001.
Arnoldsburg firemen said the Kenneth Carpenter, Jr. house was fully engulfed when they arrived following a 3:15 p.m. 911 call.
A neighbor spotted smoke coming out of the house and opened the front door to discover flames in the kitchen area. Efforts were made to put the fire out with a fire extinguisher, but the flames had already spread to the attic.
"Our three dogs came out of the house when our neighbor opened the door," said Carpenter, "That saved them from death. We're grateful that we're all o.k."
Carpenter was attending school in Marietta, Ohio and his wife was at work at Big Otter. One of the Carpenter's sons, a 15-year-old boy, was "down the road" and their other two children, a 17-year-old son and a five-year-old daughter were not present.
Arnoldsburg and Upper West Fork firemen remained on the scene for nearly four hours.