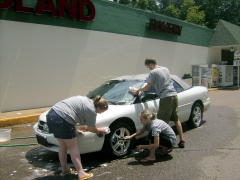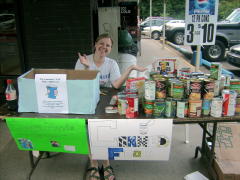 Submitted by Rebecca Williams
Energy Express Americorps team members had a car wash to collect canned and non-perishable food items for the First Baptist Church food pantry. The Community "Can" Make a Difference volunteers also set up collection spots in front of Foodland, Family Dollar, and Dollar General.
We would like to thank all the businesses for helping us make our food drive a success. With the businesses, Americorps team members' work and the people of our community who donated, we have collected 699 cans, so far.
In addition to the events that took place Saturday, most of the local businesses have gotten involved by putting donation boxes in their places of business. These include: Calhoun Banks, Calhoun County Committee on Aging, Courthouse, Cha-Tis', Dollar General, Erlewine Concrete, Family Dollar, Five Forks General Store, Foodland, Lion's Club, Main Street Grill, Minnie Hamilton Health Care Systems, Pit Stop, Parsons, and The Y Restaurant.
We are looking forward to finishing out the week and seeing how many cans were collected and who wins the free advertisement!
Again, thanks to the community for their generous donations and to everyone who has helped us make this happen.