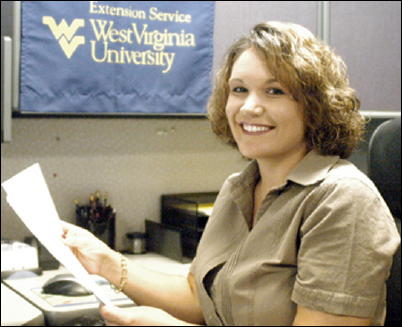 New WVU Extension Agent Brandy Brabham
Photo by Drew Hardman - Spencer Newspapers
Brandy Brabham has been assigned to Roane and Calhoun counties as an Agricultural Agent. Brabham joined the WVU Extension Service on July 16th.
The public is invited to a reception in her honor, August 1st from 4-6 p.m. at the Calhoun County Extension office located in the basement of the Courthouse in Grantsville.
Brandy was an active 4-H and FFA member. She has a Bachelor of Science Degree in Agriculture and Natural Resources. She has a Master's Degree in Organizational Communication. Brandy resides in Roane County, and is excited with the opportunity to also serve Calhoun County.
Those not attending the reception are invited to stop by the Extension Office to meet Brandy. Her scheduled office hours will be 8-4 p.m. on Tuesdays.
To contact Brabham call the Calhoun Extension Office at 354-6332
or email her at brandy.brabham@mail.wvu.edu
For more about Brandy Brabham see www.thetimesrecord.net