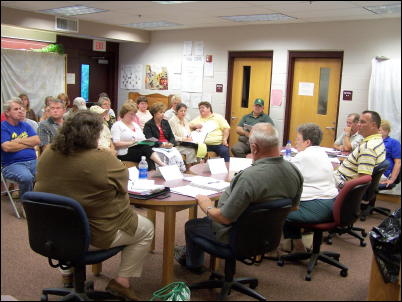 A large group of parents present a petition to Gilmer
school board over Normantown school's mold problem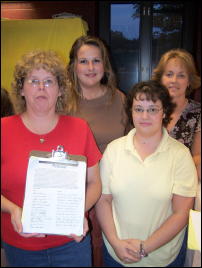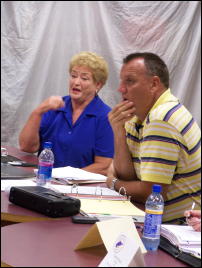 Left: Normantown parents (front, left to right) Lisa Tanner
and Shawna Maxwell (rear, left to right) Misty Pritt and Lisa
Moore present petition for emergency help; Right: Board member
Phyllis Starkey and Superintendent Ed Toman participate in forum
By Bob Weaver
It was a victory for Normantown parents, students and community members last night in Glenville, with the Gilmer school board unanimously voting to take emergency action to take care of a mold problem at the Normantown Elementary School.
Misty Pritt, representing Normantown parents, presented a petition with 566 signatures calling for immediate action to correct the mold and structural problems that would likely have prevented occupancy when school starts August 27th.
"We're past due for a decision. We are stressed," said Pritt.
About 65 members from the Normantown community crowded into the board meeting room, with Superintendent Ed Toman opening the meeting for discussion.
Toman said "We're looking at options to solve this problem," citing a number of measures he had taken, including an attempt to obtain $500,000 in funding from the state's School Building Authority.
At least a dozen parents spoke to the board, with Challenge WV organizer Thomas Ramey telling members he was there to help Normantown parents keep their community school.
"Small schools educate children better," Ramey said.
The board unanimously approved a plan with several steps that will correct the problem and get Normantown students back in their classroom.
The problem could be resolved in 10-20 weeks, but students can remain in the buildings or use modular trailers during the interim.
Pritt praised board members and Superintendent Toman, saying "We're very pleased that our kids will be back in our school. This is the action we want."
She said the school system has been dragging their feet since last fall in correcting the problem, with an apparent plan to bus the students to Glenville.
During a meeting Tuesday in Normantown, most parents expressed fear the plan was to close the school.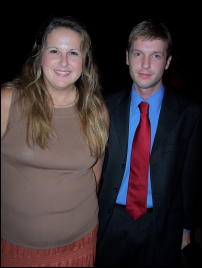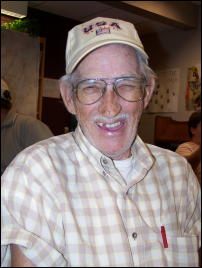 Left: Community leader Misty Pritt and Challenge WV organizer Thomas Ramey advocate for community schools; Right: Longtime Normantown school supporter Frank Minney earlier issued a simple plan and volunteered to "do the clean-up"
At least three Gilmer schools are on the state's "economies of scale" list for closure, Normantown, Sand Fork and Troy.
Toman said Dr. Mark Manchin, who heads the School Building Authority, said he will be coming to Gilmer to look at the problem, although school board member Phyllis Starkey said, in a phone conversation with Manchin, he was unaware of any problem.
"The mold situation has gotten lost," she said, "What we need is emergency action now."
Starkey said "We need to get that floor up and get the mold out of the building," saying the floor is "like mush."
School board member Alton Skinner presented several low-cost options to correct the problem, and board member Larry Butcher said "I don't think it's a life threatening situation. It's a problem that needs fixed."
See earlier story Mold In Normantown School...