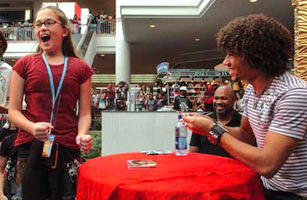 Cassie Lamont, 11, of Munday Road, Calhoun County, rejoices
before picking up her compact disc signed by Disney's "High
School Musical" star Corbin Bleu, Cassie is the daughter of
Danielle and Mark Stevens (Front Page: Charleston Gazette Photo)
About 1,000 fans and their parents filled the Charleston Mall's Center Court to catch a glimpse of Disney's "High School Musical" star Corbin Bleu.
"This is the largest crowd we've had at the Charleston Town Center Mall in 15 years," said Lisa McCracken, the mall's marketing director.
Kids and their parents started lining up long before the mall opened, as early as 4 a.m., to see Bleu and maybe get an autograph, McCracken told the Gazette.
Prime views of the stage were in high demand. Children leaned over railings on each floor, perched on parents' shoulders and jumped up to see over taller people.
Some even squeezed into the mall's glass elevators, which overlooked the stage, for a quick glance of Bleu before the ride was over and a new batch piled in for their turn to view.