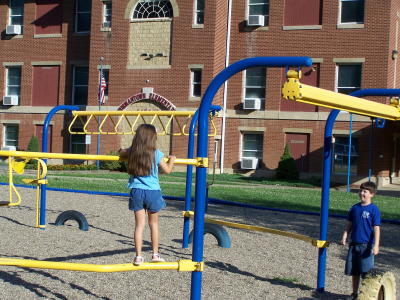 Normantown's school at risk of closure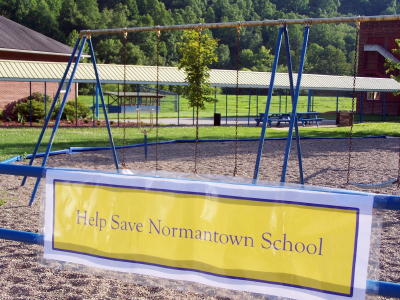 Parents and community on move to keep school open
By Bob Weaver
While elementary school consolidation is looming in Gilmer County, a new wrinkle has been added with the presence of mold in Normantown Elementary School.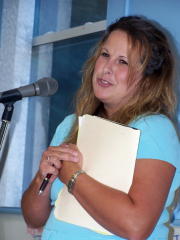 Misty Pritt (pictured left), a spokesperson for parents and community members, said that the Gilmer school system is dragging its feet on resolving a serious mold problem in the 110 pupil school.
Pritt, speaking at a public meeting Friday, indicated Superintendent Ed Toman appears to be avoiding a directive from the board to have the mold problem treated before school opens next month, opting instead to bus the students to Glenville.
"We've had a hard time getting anything in writing about a solution," Pritt said.
Teachers began to complain in September 2006 about sickness, citing an air quality test that found toxic mold on the bottom floor of the Normantown school.
Another problem, according to the school system, is that the school also has asbestos that must be removed before anything can be done about the mold problem.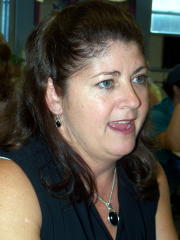 Newly appointed principal Shirley Hupp (pictured left) said "I want a school where I can be principal. We have to consider the safety of the kids."
Thomas Ramey from Challenge WV spoke to the group of about 65, making suggestions on how to rally the community in supporting their school.
"Challenge believes community-based schools are best to teach children," Ramey said, citing national research.
Ramey said the state's School Building Authority has used "a bloody hammer to force the closure of community schools," even against decisions made by elected school boards.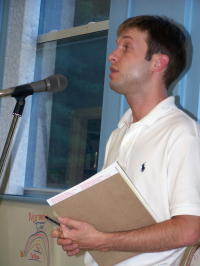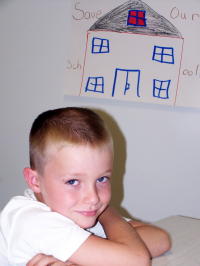 Challenge WV's Thomas Ramey (left) advocates for community
schools while a Normantown student says "save our school"
Parents attending the meeting indicated the transferring of students to Glenville because of the health and safety problem created by the mold would be the death of the Normantown school.
At least three of Gilmer's community elementary schools, Normantown, Sand Fork and Troy have been targeted by the state for closure using their economies of scale model.
The schools would be consolidated into Glenville and possibly the Alum Bridge school in Lewis County.
Superintendent Toman said last year "There's always talk of consolidation," assuring parents and teachers that no decisions have been made.
Following numerous conversations with state and local officials seeking a solution, Pritt told the group "We don't want our children in that school (with mold). We need a solution now."
A petition to have temporary mobile classrooms placed at the school will be presented to the school board Tuesday evening.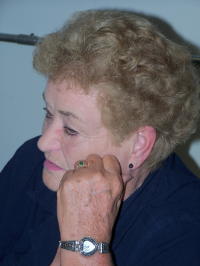 School board members Alton Skinner and Phyllis Starkey expressed
support for community-based schools and solving the mold problem
School board member Phyllis Starkey said the board called for immediate action on the problem at a July 6th meeting.
Starkey and board member Alton Skinner indicated they support keeping schools in communities.
Discussion by parents and community members expressed concerns over various proposals and costs to remedy the mold problem.
After hearing the costs of clean-up from $100,000 to $500,000, Normantown school supporter Frank Minney said with his longtime vocation as a building cleaner, even with his current health problems, he would go into the school and do the clean-up.
"This school needs to be here in our community," he said.
Darrell Woods, a former maintenance man at the school, gave a history of how problems have or have not been resolved at the school.
One parent suggested Normantown parents consider a home schooling option until the building is safe.
Parents indicated they intend to appear at Gilmer's board meeting Tuesday.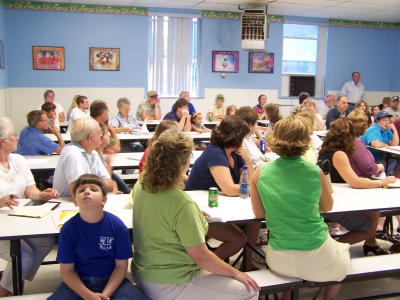 Parents and community members organizing ...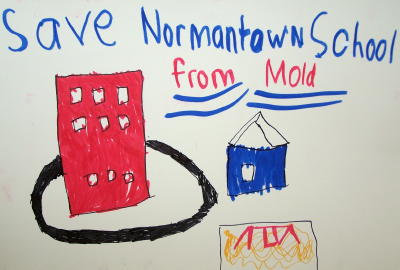 ... to save their school, and not just from mold