By Drew Moody
_____________________________
COMMENTARY AND ANALYSIS

All-American, and former Lady Pioneer basketball great, Tracy Wyatt Raban has been selected new head coach of Glenville State College's Lady Pioneers.

Citing Raban's "tremendous reputation" GSC President Peter Barr said "there's no question we have the right person..."

The announcement ended a lengthy search to find a suitable replacement for long-time Lady Pioneer coach Steve Harold, who resigned April 19th.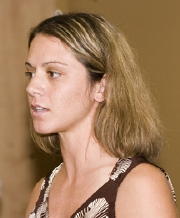 Tracy Wyatt Raban (right) new head coach of the Lady Pioneers basketball team, answers reporters questions during last week's press conference.     (Photos by Drew Moody)
As a player, Raban led the (2001-04) Lady Pioneers to the 2002 Elite Eight national NCAA Division II championship - where the team advanced to the final four. During the tournament she set a national record (unbroken) for sinking 16 consecutive free throws.
During her Lady Pioneer days she earned a tremendous amount of respect - on and off the court.
One of Raban's long-term goals has been coaching a college team. But she never considered that dream would come to fruition so early in her career, or include returning to Glenville, a place she considers her "second home."
It's an opportunity perhaps she is uniquely suited for.
Raban has a quiet, humble, sincere confidence.
She is a person who has what my mother called "a common touch" with others.
And guess what folks, Raban came to the press conference - AS HERSELF - imagine that. If she wore make up, it was very little. Raban did not go on a last minute shopping spree to impress anyone with a new wardrobe selection.
More importantly, she was immediately open, down-to-earth and forthright about her feelings, with no pretense. I'd say there's plenty of evidence to show she's committed to excellence, but I doubt you'll hear a lot of wasted words from her talking about it. She'll just show you by her actions.
She's anxious to relocate and get down to the business at hand. The Lady Pioneers will have a team meeting the first day of fall classes. Conditioning and training programs will get underway immediately.
Former coach Steve Harold has, in the past, credited Raban for putting "Glenville on the map" with respect to attracting national attention to the Lady Pioneers basketball program.
IF IT AIN'T BROKE - DON'T FIX IT
In summing up her coaching philosophy, Raban said:
"I know what I was part of in the past."
"I know it worked; we won championships."
"We went to the final four."
"Why would I make changes."
Raban acknowledged future adjustments may be necessary, indicating she'll deal with those situations as they arise.
Coaches must fine tune strategies, in response to the make-up of the team and the opponent. For example, Lady Pioneer Karina Kendrick became an even greater explosive force on last year's squad following some offensive 'tweaking' to maximize her skills.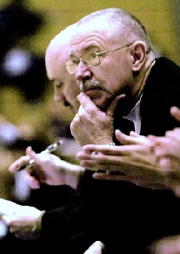 Dennis Fitzpatrick (right) will combine athletic director and assistant coaching duties. It will mark his tenth season as Lady Pioneer assistant coach.
Athletic director Dennis Fitzpatrick and Raban have known and respected each other for a long time.
Plus, they've had plenty of practice working on the same team She recalled it was Fitzpatrick's efforts when she first arrived in Glenville that made her feel welcome and solidified her conviction she'd made the right decision to transfer.
He's confident in her abilities, as well as believing Raban can secure and continue the winning tradition of the Lady Pioneers program.
A YEAR OF TRANSITION
Fitzpatrick predicted a "fairly easy" transition, but acknowledged early stumbles are possible. Cautious optimism in the face of a host of unknown possibilities is a sign of wisdom, not doubt. Perhaps more than anyone, he fully realizes the scope of a transition year amounting to rebuilding the team.
The long-time assistant coach has no proclivity for exaggeration; ask him a question - you'll get a straight answer. If you don't want to know, don't ask.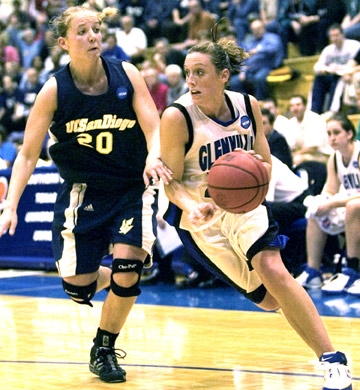 Rachel Redick led the 2006-07 Lady Pioneers to the Elite Eight Championships in Nebraska. Here she makes an abrupt cut to the inside. The Lady Pioneers faced UC San Diego in first round play, and saw what looked like a comfortable half-time lead whittled away in the second half.
For many programs, just losing a 'Rachel Redick' alone would be enough to cause plenty of concern. It's worth mentioning too, there were three other exceptionally talented athletes among that senior group ending their careers with Redick. They are Casey Taylor, Lauren Strong and Christy Alltop.
A significant element at the core of the team's success last year is how perfectly they read each other, and worked together. Such communication allows players to rise to levels perhaps otherwise unattainable. It makes them even better than they would have otherwise been alone.
Those types of are traits built over time.
At a post-game press conference during the NCAA Division II East Region playoffs a member of team trounced by the Lady Pioneers provided insight into the level of fan-support the team has. The young woman, a top player herself, said nowhere had she ever experienced such crowds, or the sheer enthusiasm for a women's basketball team. She admitted the intensity and noise level "rattled" her team, and believed it contributed to their loss.
Raban, and the Lady Pioneers during her years as a player experienced unqualified fan support as well. That loyalty has remained at a near constant for many years.
However, it's far easier to support winning teams, and adulation is known to be fickle. Will Lady Pioneer fans, particularly younger ones, continue their support, and be understanding, if 'their beloved Lady Pioneers' experience a difficult season this year?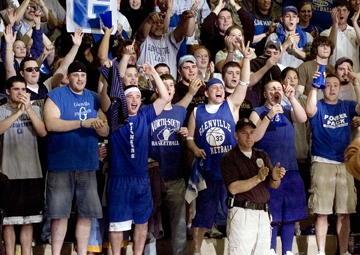 Several times last season the Lady Pioneers
played to nearly sell-out crowds at home.
RABAN - FITZPATRICK - REDICK, A GOOD COMBINATION
Fitzpatrick witnessed Raban's evolution as a basketball player, and as he put it, "into not only a great basketball player, but a great person as well." She was on the college's radar while still in high school, and Fitzpatrick began actively scouting her during her sophomore year.
Fitzpatrick has agreed to continue his coaching duties for at least one more year, but expressed hopes that during the coming months a younger, permanent replacement can be located.
In addition to Fitzpatrick's help, fans will be pleased to know Rachel Redick is on board the Lady Pioneers team as well, acting as a student-assistant coach as she finishes her senior year at Glenville State College.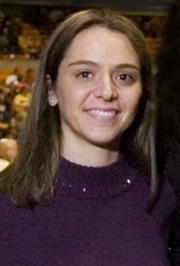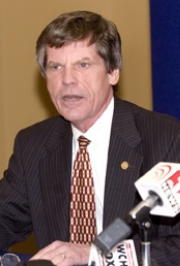 Raban, pictured (above left) at the WVIA
Conference Tournament last spring. She was
selected one of the 25 greatest players in
the history of WVIAC women's basketball. She
was the sole unanimous selection among players.
Glenville State College President Peter Barr (right) told
the media Raban had his full support and there were "no
doubts" that she was indeed the right person for the job.
Redick and Raban were Lady Pioneer teammates for one season, then Raban was student-assistant coach during her final year at GSC.
If Redick takes to her new duties, perhaps Glenville State College will need to look no further than this exceptional, and multi-talented young woman, to fill Fitzpatrick's shoes on the bench. Time and fate will tell.
Redick has continually expressed a great passion for becoming a teacher. She's scheduled to begin student teaching at Glenville Elementary this fall. Redick will be discovering if the two passions of basketball and eventually teaching in a county school system can be peacefully balanced with the requirements of college-level coaching duties.
COMMUNITY RESPONSE AFFECTED RABAN'S DECISION
At first blush, the recently married Raban intended to turn down the Glenville State College job offer.
"I can't leave what I have down here," she remembers thinking.
The critical element leading her to reconsider was the immediate outpouring of support for her selection from the Glenville community.
As soon as rumors circulated regarding the job offer her phone started ringing.
"I can remember the first night of the honeymoon, I had 11 voice mails," Raban said, smiling.
No one from the college called that night. They were from area residents who knew her as a student.
"The people of Glenville are just great," Raban said "They're like my family."
And the calls continued to come.
"Knowing they wanted me...that did it right there," she said.
Rabin has always felt "at home" in Glenville and said the community has a quality you just can't experience anywhere else.
"I'm very happy, and very excited," she said.
Along with Raban's first doubts about the accepting the post, there was some anxiety in Glenville as well, while officials waited for her response. Some expressed a belief getting Raban to come to Glenville was a longshot - simply because of everything else going on in her life.
But, as they say, sometimes fate works in mysterious ways.
In fact, it was a very 'fresh on the job' Peter Barr who said not long after arriving in Glenville, "Sometimes things just happen for a reason," giving the impression he believes in his heart he was supposed to be here.
HAROLD'S RESIGNATION CAME AT CRITICAL TIME
Steve Harold's departure as athletic director and Lady Pioneer head coach came at a time when several critical elements were at play - including interfering with the recruiting season. In addition to that, no conference game dates had been established, so the entire schedule had to be worked out.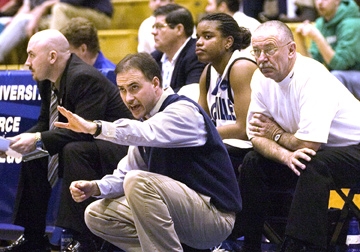 Former Lady Pioneer coach Steve Harold, center,
kneels along the sidelines last season directing
the team's effort. Assistant coaches, Dennis Fitzpatrick,
right, and John Nicolais sit on either side of Harold.
While some schools, like Drury University where Steve Harold is head coach, made their decision to offer him the post in a matter of days, that process at Glenville State College - to anyone not directly involved - may have appeared stalled, or in slow motion.
President Barr didn't need a reporter's question for him to address that issue immediately upon opening Thursday's press conference.
Apparently the belief of the search committee was, 'better to suffer a little now, instead of steeped in regrets later' due to a hiring mistake.
Barr told the press the college recognizes the importance of Lady Pioneer basketball, and as a result the search committee was "deliberate" in its search to eliminate any doubt the right person was selected.
Barr also offered Raban his unqualified support, saying, "There's no question we have the right person..."
The recruiting season, however, offered no mercy to that "deliberate" posture.
MULTIPLE CHALLENGES TO FACE
As if it wasn't bad enough to lose four starting seniors any potential recruits had multiple reasons why they might by-pass becoming a Lady Pioneer this year, simply because of too many unknowns.
This season is essentially a 'double-transition' for the Lady Pioneers - making team adjustments and bring a new coach on board. Complicating the picture further - what top player from out of the region, where no Lady Pioneer loyalty exists, would come to Glenville without first meeting the person who would become their college mentor?
Contrary to what some may think, usually players of the caliber of these athletes are fairly adept mentally. And, the proverbial 'writing on the wall' was glowing neon.
To make matters worse there was a continuation of what had become a series of "wild rumors" that sometimes overtakes even the best intended souls, with talk suggesting most of the remaining Lady Pioneer team planned on bolting to other schools.
Two Lady Pioneers who are not returning for the 2007-08 season are WVIAC Freshman of the Year, Melanie Oliver, who followed Steve Harold to Springfield, MO, becoming a member of the Drury University Lady Panthers.
She averaged 10.3 points and 7.7 rebounds per game last season. Oliver is a great player and will be missed. I know for certain "Mr. Drew" will miss her, and I wish her the very best. She came to Glenville because she wanted to be coached by Harold, and her departure doesn't come as a blind-sided surprise. Fans should know the decision to leave Glenville was not an easy one to make.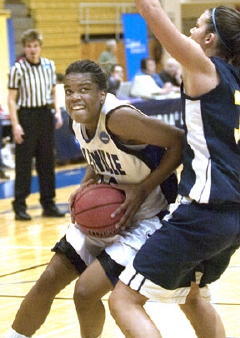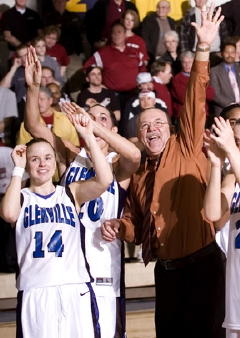 Melanie Oliver (left) forces her way to the basket during the Lady Pioneers Elite Eight appearance in Nebraska. Shortly after the Lady Pioneers captured the NCAA Division II East Region Championship earlier this year, Fitzpatrick acknowledged someone in the crowd with a jubilant wave. Standing next to him are Lauren Strong (14), and Karina Kendrick.
The other player not returning to the squad is guard Casey Heller, a Pennsylvania native. The Lady Pioneer guard position was perhaps slightly over-recruited, and her departure will likely have no impact.
These kinds of situations can occur periodically at any school for a variety of reasons - fate, firings, student transfers, lean recruiting years, or coaches leaving, for example.
But, here in Glenville, the Lady Pioneer program has experienced perhaps unusual stability for close to a decade. Smaller colleges, particularly ones with lean recruiting budgets, are much more likely to experience volatile ups and downs from season to season. A larger institution can effectively "buy a cushion" simply because of finances. That is certainly not the case at GSC.
WHERE THE BURDEN OF CONSEQUENCE HIT
Lady Pioneers assistant coach Dennis Fitzpatrick became immediately responsible for taking care of all the unattended details, and took over what would have primarily been Harold's responsibilities. His workload more than doubled.
For those who don't recall, all these events occurred immediately prior to the Lady Pioneers annual banquet.
None of the banquet arrangements had been finalized but thankfully President Barr's wife, Betsy, (who prefers to work invisibly in the background on a variety of projects just because she cares) immediately offered to help. A few others joined in and the annual celebration was a complete success.
During the previous season (2006-07) several people, including Harold himself, commented it was Dennis Fitzpatrick's day-to-day efforts that made everything appear to run so smoothly. "He's the glue that makes the program work," Harold used to say.
Fitzpatrick doesn't chase accolades - and much the same as Betsy Barr, he just takes care of what needs to be done. I've not met too many people who are satisfied knowing they helped and make a difference (what I call being useful) without drawing attention to their own actions. Sue Morris is such an individual. So that's a short-list of three individuals I know of that caliber.
Fitzpatrick provided necessary stability, as he always does, during a difficult transition period. And did so without comment or complaint.
POSITIVE OUTCOMES
While the search was ongoing that led to the hiring of Raban, a lot of other things have happened at Glenville State College. At times it seems like so much is going on it's reduced to a blur.
The Lady Pioneers have secured several new players including Gilmer County's stellar basketball star, Whitney Minigh. And the core of the Lady Pioneers that are still eligible are dedicated and anxious to start a new season. Returning starter Karina Kendrick will be the only senior member of the team. The remaining returning veterans -- Christine DiSabato, Mallory Menendez, Donita Adams and Miranda Reed will play an important role this season.
Rachel Redick has been assisting with the Lady Pioneers summer youth sports camps, taking a great deal of pressure off the rest of the staff. In addition to Redick, several of the Lady Pioneers, including senior Karina Kendrick, are helping as well.
For many faculty and staff on the Glenville campus, this summer has been busier than the normal school year. A lot is happening at the college.
Hundreds of youth have attended various sports-related camps. The Lady Pioneer camp numbers are stable. Men's head basketball coach Dwaine Osborne set a new attendance record at one of his camps. Osborne has built an likely much improved team for the upcoming season that may surprise not only their competition, but fans as well.
Simultaneous to this heightened sports-related activity, the science department's NASA grant has brought teachers to the campus from across the state for the first of a series of week-long training sessions. It's part of a multi-million dollar research project on the Tree of Heaven. High school students, also part of the research effort, are completing a several week stay at the college this week. The Tree of Heaven is an invasive species of tree is crowding out West Virginia's natural forests. Glenville State College is expected to make a near statewide effort to better understand the species.
Other events include the recent unveiling of a Glenville State College initiative establishing a multi-county educational partnership plan. School systems involved in the effort include Barbour, Calhoun, Clay, Doddridge, Gilmer, Lewis, Nicholas, Randolph, Ritchie, Roane, Upshur, Webster, and Wirt Counties.
President Barr recently unveiled a proposal to build a 29-unit housing complex to be sited on Route 5 near the entrance of the federal prison.
Work is ongoing at the Glenville State College science building where a multi-million dollar remodeling project is underway.
Gilmer County native Duane Chapman has taken over duties heading the admissions office. It's recently been reported enrollment is slightly down, but that's likely because of what had become a revolving door this year - through no fault of the school - in the lead position there.
An artist by education, nature, and trade - and GSC Fine Arts chairman - Chapman immediately recognized the critical timing of the most recent departure. I believe it is safe to say he didn't particularly want to offer his services, temporarily stepping out of the art/music arena he loves - but due to his passion for the school, felt he had no choice.
He had a plan, made a proposal and wham, bam, presto things began to change.
While there are many exceptional people at Glenville State College, I think those from Glenville or central West Virginia feel the strongest connection to the school. The bottom line - "It's personal."
Working there, for those who have a long history of essentially growing up in the shadow of the administration building, could never be "reduced to just a job." And there are some who have a multi-generational connection at GSC.
I'm guessing in short order, Chapman will turn around the slight enrollment deficit, for there's plenty of great news and good reasons to attend college here.
In addition to what is mentioned above, a mentoring program has been established which puts college students in the classroom working with students. GSC is regularly involved in assisting with special projects at several area schools in and outside of Gilmer County.
A crime scene house was opened near the campus, providing additional training opportunities. A WV state police officer is assisting with that program.
The college has open lines of communication with the local federal prison and that relationship is strong. Last fall prison officials were invited to bring prisoner's artwork to the school for an exhibit to the Fine Arts Center Gallery.
President Barr believes the education of students should not be looked upon as occuring solely in a classroom environment. He also recognizes the importance of encouraging the value of community service. As a result Glenville State College is becoming more actively involved in the what could be thought of as "the greater community of central West Virginia."
The college has a rich history of reaching out beyond its borders to be of service. For example, many years ago, Glenville State College successfully established Parkersburg Community College, which is now part of West Virginia University.
But, as far as the general public is concerned, likely the best news of late is the hiring of Tracy Wyatt Raban as Lady Pioneer head coach. And, as happy as Raban is about it, Dennis Fitzpatrick may be even happier.
"It's a huge relief to finally have someone on board," Fitzpatrick said Thursday afternoon. With activity non-stop since the summer camps began in early June, Fitzpatrick said, "You go home sometimes after a 14-hour day and think...did I get anything done?"
The "Little Pioneers" day-camp concludes this week, and soon afterward Fitzpatrick is taking a vacation break.
TRACY WYATT RABAN'S HISTORY AT GSC
Her past contributions to the Lady Pioneers, and Glenville State College athletics, is so honored the school decided in late April to retire her #14 jersey, as well as Rachel Redick's #22.
There is little doubt that Raban and Redick are the two greatest players ever to suit up with the Lady Pioneers. While Rachel Redick's long list of accomplishments and honors are part of readers more recent memory, Raban's isn't.
In light of that, here's a brief review of Raban's career. She played three years as a Lady Pioneer which spanned the 2001-02, 2002-03 and 2003-04 seasons.
*** Named WVIAC Freshman of the Year, playing for Bluefield
*** Two-time WVIAC Player of the year
*** Three-time WVIAC First Team
*** East Region first team in 2002
*** NCAA Division II Daktronics 2nd and 3rd Team All-American
*** Two-time Kodak All-American
*** 2002 Elite Eight All Tournament Team
*** Two-time Neal Baisi Award Winner
*** 2005 Williams Award Selection (GSC)
*** Lady Pioneers were WVIAC Conference Champions 02, 03 & 04
*** Lady Pioneers captured the WVIAC Tournament 02-03
*** Advanced to Div. II East Region play-offs 02-03-04
*** NCAA East Regions Champs in 2002
*** Advanced to Elite Eight national tournament in 2002
Raban, along with fellow Lady Pioneer players Rachel Redick and Denae Dobbins was selected to the WVIAC's "25 at 25" all time greats of women's basketball over the past 25 years. Coach Steve Harold, and two other Lady Pioneer stand-outs were honored as well - Denae Dobbins and Nikki Cale.
Raban was the only player in that list that received a unanimous sweep in the voting, and Redick was the only active player honored earlier this year during the WVIAC tournament in Charleston. Harold was a unanimous choice in the coaches division.