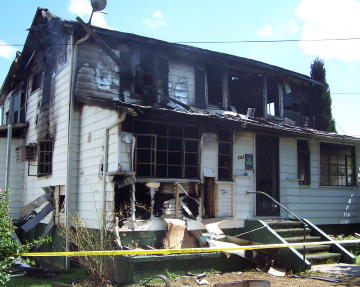 River Street house is total loss after early Sunday morning fire
The WV State Fire Marshal's office has been notified regarding an early Sunday morning fire in Grantsville.
The cause of the fire is unknown.
A two-story house located on River Street belonging to Eileen Cox was a total loss.
Cox was not at home at the time, with everything she owned being destroyed.
Other suspicious fires of unknown causes
recently destroyed property within short proximity
Grantsville and Arnoldsburg firemen responded to the 2 a.m. blaze. It was brought under control within 30 minutes. A nearby garage apartment was not damaged.
Firemen remained on the scene until after daybreak.
Grantsville and the county has experienced at least seven fires of unknown origin in the past few months, besides several other house fires.
Yesterday morning's River Street fire was two houses down from another two story dwelling that burned in 2006 and a short distance from a major blaze in May that destroyed several structures between Court and Hardman Street.
A fire of unknown origin also destroyed a house between Main and Wigner street in May.
See earlier Herald stories