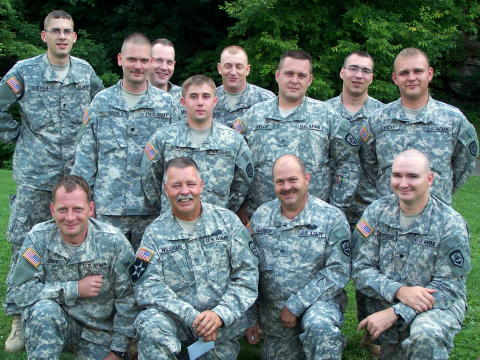 Calhoun soldiers departing for duty in Iraq (L-R) Front: Rich Goff, Grantsville; Roy Williams, Big Bend; Frank Garrison, Grantsville; John Dennison, Arnoldsburg; Middle: Andy Morrison, Nobe; Bryan Gungle, Chloe; Matt Taylor, Grantsville; Sam Lynch, Mt. Zion; Back: Espe Clothier, Millstone; Bill Boone, Grantsville; Dewayne O'Neal, Chloe; Gregg Lee, Grantsville; not pictured Robbie Parsons, Mt. Zion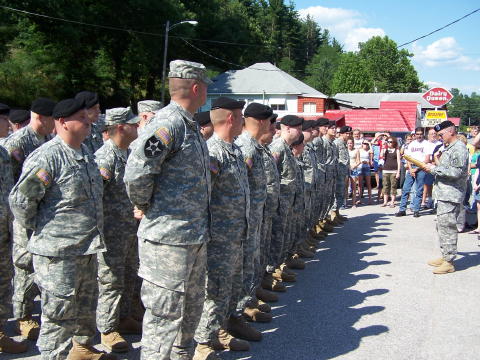 Sgt. Scott Tolley calls roll for deployed
soldiers (Photo courtesy of Sherrill Tolley)
July, 2007
The scene was familiar Saturday, to Roane, Calhoun and regional families, a parade through downtown Spencer for departing National Guard troops off to war in Iraq.
Nearly 200 members of the West Virginia National Guard left for training in Wisconsin before they head to the Middle East.
National Guard officials say the deployment could stretch for 14 months.
The 821st Engineer Company is based in Summersville and Spencer.
The Spencer unit departed the armory at 4 p.m. Saturday for a parade through town.
While this is the first time the 821st has been deployed because it's a new unit, many of Spencer's soldiers are returnees to the battlefield.
See additional story and photos from July 22nd A National Guard Goodbye