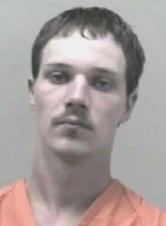 Twenty-three-year-old Matthew David Jeffrey has been arrested following a shooting incident in Calhoun County Sunday and is incarcerated on $20,000 bond in Central Regional Jail.

He has been charged with malicious wounding, assault, and wanton endangerment with a firearm.

Authorities could not be reached regarding confirmation that the incident was connected to a 911 call on Yellow Creek about 6 a.m. Sunday.

The victim of that shooting reportedly appeared at a cabin along Yellow Creek Road, asking for assistance from a gunshot wound.

The victim's name was not learned.

Calhoun EMS and local authorities responded to that scene and took the victim to Minnie Hamilton Health Care System in Grantsville for treatment of a gunshot wound to the leg.

He was reportedly treated and released.

Jeffrey was taken to CRJ by the Calhoun County Sheriff's Department.

More will follow ...