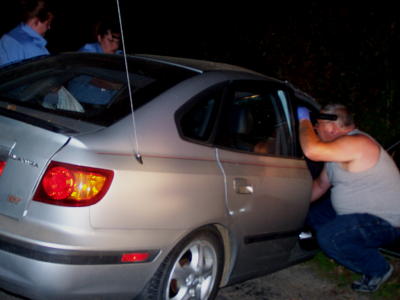 EMS personnel and Grantsville VFD officer Dave Johnson
administered trauma care to victim shortly after arrival
A man has died after crashing his car on lower Pine Creek Road Sunday night, about two and one-half miles from Rt. 16 at Mt. Zion.
A male passenger in the car escaped serious injury.
His Hyundai vehicle appeared to have rolled-over at least once on the narrow road before crashing into the hillside.
The victim reportedly suffered serious head trauma.
Calhoun EMS quickly responded to the scene at 9:30 p.m. and began administering care.
Medical Examiner Ed Messenger and the State Police are investigating the fatality.
The name of the victim is being withheld pending notification of next of kin.
MAN INJURED IN ATV ACCIDENT
A Roane County man was taken to Roane General Hospital after his four-wheeler wrecked at the the intersection of Pink Road and Island Run Rd., along Henry's Fork.
Calhoun EMS (photo left) responded with the Arnoldsburg Volunteer Fire Department at 8:30 p.m. to the rural area about three miles from US 33-119.
Sources at the scene reported the man did not appear to be seriously injured, although he did suffer some trauma.