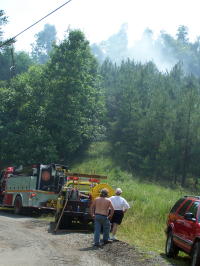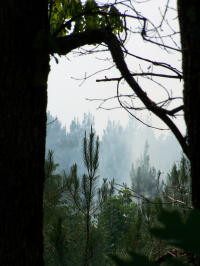 Pesky fire spreads through ground cover near Joker
A broken natural gas line, very dry conditions and a pesky wind fanned a brush fire on the Bryner Rd. near Joker today, causing several acres to be burned.
The Grantsville Volunteer Fire Department went to the scene at 2:30 p.m. and fought the fire for several hours, with other volunteers, before bringing it under control.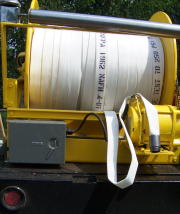 Lightweight forestry hose (left)
extends water supply deep into woods
Grantsville fireman Matt Kirby said this was the first time the department used newly acquired forestry hose to push water a long distance from a pumper truck, in this case about 1500 feet from the highway.
The department recently received the lightweight one inch hose from the Forestry Department.
Firemen strung several feet of regular 2 1/2 inch line into the woods, splitting into the one inch hose.
The volunteers also used traditional fire rakes.