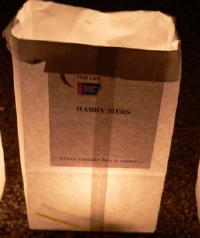 Luminaria lit during Relay for Life 2006

In honor of Rev. Harry Siers

May 16, 1937 - April 20, 2006
By joining the Luminaria ceremony at the American Cancer Society's Relay for Life of Calhoun County, you can help fight cancer by honoring or remembering loved ones who have been touched by cancer.
The annual Relay for Life event is Saturday at Wayne Underwood Field in Grantsville beginning at 6 p.m. The Luminaria ceremony will begin at dusk (around 9:30 p.m.).
During the ceremony, candles are placed in luminaria bags, which are dedicated in honor of a cancer survivor or in memory of a loved one lost from cancer.
When lit hundreds of luminaria will brighten the way for Relay for Life walkers.
For a printable luminaria donation form click here