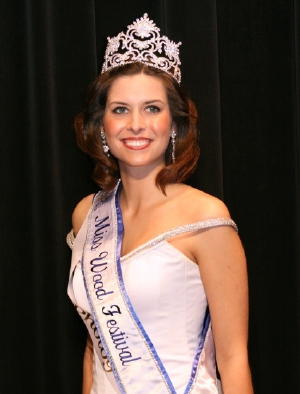 Miss Hanna Danielle Law
Photo courtesy of Patty Haught
Miss Hanna Danielle Law was chosen Miss Wood Festival 2007 at the annual pageant held at Calhoun Middle-High School, Tuesday evening.
She is the 17 year old daughter of Danny and Alicia Law of Five Forks.
Hanna represented the Calhoun Wood Festival last year as Queen Flora XLIV - 2006.
Contestants competed in interview, streetwear, swimsuit, and evening gown categories.
Hanna, who was also chosen Miss Photogenic, will represent Calhoun County at the West Virginia Association of Fairs and Festivals Pageant in January. She will also have her way paid to the 2008 Miss WV USA pageant.
Miss Kayla Boggs was First Runner-Up, and was also chosen as Miss Congeniality. Misses Soni Huffman and Tiffany Hope tied for Second Runner-Up.
Winners chosen in additional Miss Wood Festival categories are: Miss Teen Wood Festival, Nicolette Liles; Jr. Miss Wood Festival, Chelsey Ball; Miss Pre-Teen Wood Festival, Emily Bain; Little Miss Wood Festival, Danielle Richards; and Mini Miss Wood Festival, Carissa Yoak.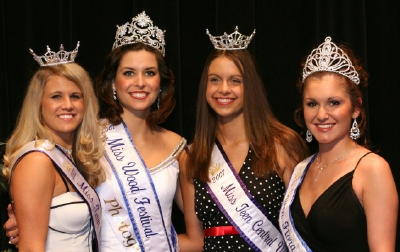 2007 Calhoun Wood Festival Pageant Winners - pictured left to right
Miss Teen West Central, crowned in April, Caitlyn
Prusack, daughter of David and Sheryl Prusack of Big Bend
Miss Wood Festival 2007, Hanna Law, daughter
of Danny and Alicia Law of Five Forks
Miss Teen Central Valley, crowned in April, Leslie Garrett,
daughter of Stanley and Pamela Garrett of Mt. Zion
Queen Flora XLV-2007, Amie Carilli, daughter of Susan and Butch
Conrad of Orma and John and Laura Carilli of Daytona Beach, Florida
Photo courtesy of Paige Toney