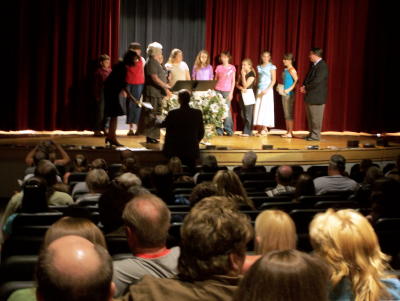 The 24th annual Calhoun Academic Awards Program was held yesterday evening At Calhoun Middle-High School with students from the three county schools being recognized for achievements.
Superintendent Ron Blankenship and Director of Curriculum Greg Cartwright, among many others, presented the certificates, awards and plaques.
The Top of the Mountain Award went to Amanda Alcaraz-May, Hanna Law, Jeremiah Postalwait and Jacob Wagoner.
The Promise Scholarships were announced, going to Amanda Alcaraz-May, Reba "Dani" Church, Jamie Kennedy, Hanna Law, Richard Mace, Courtney McKown, Jeremiah Postalwait, Jacob Richards and Jacob Wagoner.
Dozens of other special recognitions, scholarships and awards were presented, all to follow...