By Alvin Engelke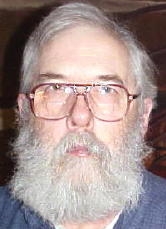 By Alvin Engelke
Holly Wayne Greathouse, age 56, was killed when his lawnmower overturned whilst mowing his father's lawn on Annamoriah Creek. "Old Redbeard" was a longtime DOH employee and had formerly worked in the oil fields. His untimely death came as a shock to the many that knew him.
Not so long back his father, Holly Roscoe Greathouse, Jr., fell at his home nearby and broke his femur. He is now at the Minnie Hamilton extended care unit.
The Shimer reunion was started by the family of Sherman S. & Mary Katherine Shimer. The event will be held this year on May 27 between the hours of 10 A. M. & 2 P. M. at the Creston Community Building. All Shimer relatives are invited to attend.
The Creston Neighborhood Watch held a flea market May 19th at the Poling residence at the end of the dePue straight. Several of those who had tables said they hoped the event would happen again as they did real well. It was noted that the event raised a lot of community awareness of the project and those present reported having a great time socializing as well.
A group of four wheelers sped through Creston and up Ann's Run Friday evening.
One evening last week a truckload of pine saw logs went up the Richardsonville road. One can only wonder.
A feller who keeps cattle up on the West Fork fetched in some cattle from out of state and had no paperwork. The W. Va. Dept. of Agriculture folks were called and then "words" were exchanged. The end result was that all of his cattle were quarantined.
Ira Lynch was attending to business in Elizabeth. He noted that he went to see Eleanor Grim in the rest home on the event of her birthday but, with her Alzheimer's disease, she was not aware of his visit.
Alvin & Nancy Engelke, daughter Jane & Wilbur Harrison Schenerlein IV motored to Strasburg Virginia to visit Anna Engelke. It was Harrison's first big trip and he did marvelously. It was noted that gasoline is about 30 cents cheaper both in Virginia and Maryland.
The price of local Penn grade crude oil rose $2.25/bbl over the weekend to $60.25. Many can remember when the price of local crude was $3/bbl and many wells were abandoned because it was not economical to produce.
A lease man for Chesapeake called a local fellow and offered him $5/acre delay rental on a tract. Back in 1865 the dePues were paid tens of thousands of dollars as a bonus for signing and in 1900 delay rental was $1/acre which was a day's wages. The lease was one of the "net" leases allowing deductions for the cost of capital, etc, no free gas and a ten year term, well really five years with an automatic five year extension and other weird provisions not helpful for the property owner. He noted that Chesapeake was starting 3-D seismic work both in Clay & Kanawha counties. Apparently there is no one in West Virginia without a job as the entire crew that did the last job in Roane County was from Mexico and, of course, none of them were illegal aliens.
Columbia Transmission sent out literature to remind folks that, under The Natural Gas Act, passed a long time ago by Congress, they have the right to condemn people if they get in their way for natural gas storage and associated pipe line work.
There is talk again of a special session of the legislature to pass the Aubrey McClendon's Chesapeake Energy royalty relief act so that he will build his eastern headquarters down at the Mouth of the Elk rather than at Frenchburg or Hazard Kentucky. Lawyers associated with the Tawney fraud case against Chesapeake & Columbia noted that they had their doubts.
According to a report from down at the Mouth of the Elk, the Big Boss decided that the words on the Welcome signs, "Open for Business" wasn't popular and since, "Wild Wonderful . . " was someone else's idea, it couldn't be used again. He proposed 3 slogans and the state's schoolchildren are to decide, viz: 1. West Virginia, you can place your bets almost anywhere. 2. West Virginia, still ahead of Mississippi in most things. and 3. West Virginia, Mountaineers are always free; Democrats cost a little more.
Speaking of gambling, which along with tattoo parlours are said to be the state's solution to financial problems (according to some), the folks in the education business are out promoting gambling. If there was ever any question where those folks priorities were situate ...
The Creston area received a nice gentle, soaking rain that was sorely needed as things had turned dry. The rain brought along the peonies which will be nice for use on Decoration Day.
A renowned weather expert in New Zealand advised farmers there that they should speak out about proposed regulations to "stop global warming." He noted that the present hype would be nothing but a joke within five years. He described the present hoopla as a "combination of misinterpreted & misguided science, media hype and political spin." He noted that 95% of the greenhouse effect is caused by water vapor (the entire phenomenon makes life on earth possible) while CO2 (carbon dioxide) provided 3.6% of the effect with other gasses, primarily from volcanic activity being the residue. Of the 3.6% from carbon dioxide, just 3.2% is the result of human activity. Using only one sheet of toilet paper per visit as suggested by the movie star would be insignificant except for how some folks might smell.
The Old Furniture Salesman reported that he looked and discovered that his freezer was empty so he is planning a big hunting excursion to South Dakota to slaughter the little prairie dogs there. He noted that they had a litter every 30 days and had 6 - 9 in each litter. He said the rancher promised two cases of beer & a box of Cuban cigars (like Slick Willie used) if they eradicated them from his property. They are also known as being a reservoir for bubonic plague.
Andrea & Brandon Ferrell were among those visiting Mr. & Mrs. Carl Ferrell and Amy.