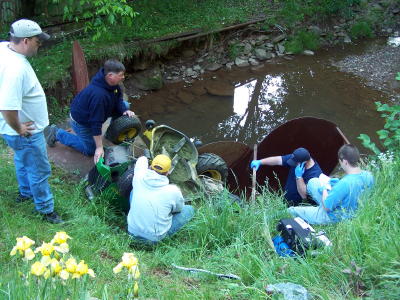 Man tragically dies when lawn mover goes into creek
An Annamoriah man was tragically killed Friday evening when his riding lawn mower rolled over a steep embankment into the creek next to a culvert.
The lawn mower appeared to land on top of the victim, but sources at the scene said he could have sustained other trauma by striking a steel culvert.
Holly W. Greathouse, about 56, a longtime employee of the WV Department of Highways in Calhoun, died at the scene.
First responders arrived on the scene within minutes, and a number of neighbors lent assistance.
Calhoun EMS, the Grantsville Volunteer Fire Department and the Calhoun Sheriff's Department responded to the call about 7 p.m.
Medical Examiner Ed Messenger was called to the scene on Joker-Hur Road, about three miles from St. Route 5.
HealthNet was responding to the accident, but was canceled by Calhoun EMS.
Greathouse had been mowing his father's lawn when the accident happened. His father is currently a patient at Minnie Hamilton Health System in Grantsville.