By Bob Weaver

The president of the US crash lands in Calhoun County, to be discovered hanging in a tree by local yokels Todd and Kevin.

Last week, a dangling George Bush gets worried when Todd and Kevin think he is a weather balloon, threatening to shoot him down.

He convinces the duo he is the President of the United States.

Todd and Kevin think his name is Eisenhower.

During the next few weeks "Eisenhower" is trying to get out of Calhoun County, back to the White House to deal with international terrorism.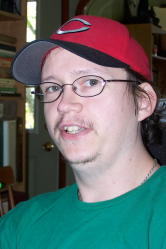 Thus launches a weekly cartoon feature this Saturday in the Hur Herald - "Todd and Kevin," created by cartoonist Gary Wayne (left).
"It's a blessing or a curse, my mind seems to view the world a little sideways," he said.
"I've always had the ability to make people laugh - on the spot," Wayne said. He has collected over 7000 comic books and attends comic book conventions.
"Some really interesting people show up, and a lot of almost celebrities."
Wayne, who now lives in Spencer, grew up on Beech and attended Calhoun schools.
"Everything I know about life I learned at Arnoldsburg School, where I strived everyday to make it to lunch. Lunch was awesome at Arnoldsburg School."
Wayne admits he doodled his way through school, graduating from Calhoun High in 1992.
"I couldn't be a role model on how to achieve, but I still made pretty good grades."
"My teachers gave up on lecturing me about drawing during class. I certainly wasn't encouraged in art."
He admits to liking history and math.
"Every year at the end of school, we'd get up to World War II, and that's it. I heard later there was a war in Korea and Vietnam."
Wayne concluded by saying he hopes Herald readers will enjoy the off-the-wall world of Todd and Kevin.