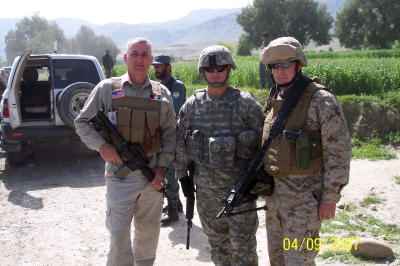 L-R - Charles, Army Sgt. Foster and USMC
GySgt. Summy in Jalalabad, Afghanistan
Submitted by April McCroskey
Charles McCroskey will be coming home on leave May 24th. He is employed by Dynocorp International Police Program and is a System Integration Team Logistics Mentor. He is stationed in Kabul Afghanistan.
Charles has worked in Kandahar City, Takapol, Spin Buldock, the Afghanistan and Pakistan border, and Kabul. He is training citizens to become police officers themselves. DynCorp, a private agency that trains officers, will be instructing Afghans how to operate under civilian law as police officers.
McCroskey, a graduate of the WV State Police Academy, has over 24 years police experience, having served as a Lieutenant with the Glenville Police Department, former Grantsville police chief, City police officer in Roane County and a Chief Deputy Sheriff in Calhoun County. Charles and his wife Sherry will be celebrating their 28th wedding anniversary in June.
American police officers serving as International Police Officers become valuable assets to their stateside agencies. Officers of all ranks return home with enhanced problem-solving skills, a strong multi-cultural awareness, and a profound appreciation for the value for diversity.
Service with an International Police Mission allows officers to apply their job skills in dynamic environments that are experiencing intense cultural and political change, thereby enhancing their value to the agency and community. International Police Officers gain hands-on experience in building the trust, confidence and respect of civilians by working with officers from dozens of other nations in:
Establishing police stations and monitoring activities
Determining the selection, screening and training processes for police officers
Demonstrating police practices and techniques used by democratic societies
Advising local police on criminal investigation methods and monitoring their progress
Working side-by-side with police officers from around the world Reporting humanitarian violations
Serving as an International Police Officer provides American police officers a unique opportunity to practice law enforcement in a foreign land where the ethnic and political issues are complex and challenging.
Participation also unites police officers from around the world in a common cause - the performance of modern, professional law enforcement. The bonds they create last a lifetime and benefit the officers, their agencies, their communities, and their profession.