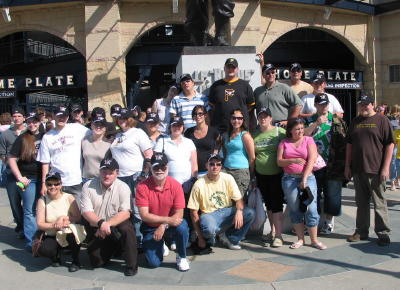 Submitted by Robert Bonar
On Wednesday, May 2, members and staff of the Youth Advantage Program took a trip to Pittsburgh, Pennsylvania. Thirty-two youth and adults from eight counties, including Calhoun, participated in the event.
Upon arriving in Pittsburgh, the group toured the Pennsylvania Culinary Arts Institute. Situated in downtown Pittsburgh, the school is actually located on several floors in two separate buildings. The group was able to see classrooms where students received classroom instruction and hands-on experience in preparing food and beverages. After conducting a thorough tour, the school provided lunch for the group in the school's cafeteria.
That afternoon, the group attended a Pittsburgh Pirates baseball game at PNC Park, just across the Allegheny River from the Culinary Arts Institute. The Pirates gave each person in the group a baseball cap to commemorate the event. The Bucs played a few innings to complete a game that had been rained out the previous day, and then played another full game against the Chicago Cubs. Unfortunately, the Cubs took both games from the Pirates, winning 8-6 in the first game and 7-1 in the second. Despite the fact that Pittsburgh lost, everyone in attendance had a good time watching the game.
The Youth Advantage Program of WorkForce WV serves youth aged 14-21 in the nine-county Mid Ohio Valley area. Youth involved in the program receive guidance assistance in creating and reaching their educational and career goals.
If you are interested in learning more about the Youth Advantage Program, please contact Robert Bonar at 354-7920 or by email rbonar@rossprov.com