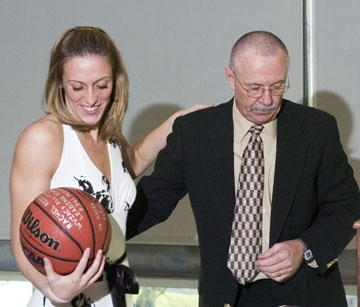 Denny Fitzpatrick presented Rachel Redick
with the game ball she shot at Davis & Elkins
breaking the all-time WVIAC scoring record
Story and photos by Drew Moody
The annual Lady Pioneer's banquet has become a tradition at the Glenville State College campus. Typically there aren't too many surprises.
Dennis Fitzpatrick, acting athletic director and head coach, announced two jerseys would be retired this year. Tracy Wyatt's #14 will be officially retired at the first home football game.
Rachel Redick's #22 will also be retired at the first Lady Pioneers home game.
Redick, the most honored player in the history of the WVIAC and Glenville State College's women's basketball program, also had a surprise for the crowd.
"Glenville has really made me what I am today," Redick told the nearly 150 in attendance. "I don't plan on leaving..."
Redick intends to stay, making Glenville her permanent home. "I love it," she said.
Fitzpatrick shared the initial e-mail Redick sent March 23, 2003. Kent State had given her a full scholarship to play basketball, but she wasn't happy. She began searching for a new home and found Glenville State College on the internet.
She wrote to Fitzpatrick expressing an interest in Glenville, along with other schools, suggesting they talk. Fitzpatrick spoke with then head coach Steve Harold who gave him the go-ahead to contact Redick. The rest, as they say, is history.
The banquet honored the entire team for a record-breaking 33-3 season.
The Lady Pioneers won the WVIAC Championship Tournament, followed by capturing the NCAA East Region Championship Tournament held in Glenville. A heartbreaking loss to UC San Diego in the first round of the Elite Eight in Nebraska ended the 2006-07 season.
The team often amazed fans because all of the Lady Pioneers actively contributed to the team's success. If one player was having an off night, another stepped in to fill the gap.
The theme of Sunday's celebration was "End of an Era - a New Beginning."
Losing four starting seniors, all exceptional players, combined with the recent resignation of longtime head coach Steve Harold certainly equates to change and new challenges. Sports programs are known to periodically go through such 'growing pains.'
The four graduating seniors leaving the team are Christy Alltop, Lauren Strong, Casey Taylor and Rachel Redick.
Dennis Fitzpatrick told the audience he began watching Christy about seven years ago, and regularly attended her games since she was a junior at Wirt County High School. "I'm so glad you chose GSC for your career," he told Alltop.
Alltop thanked the fans and everyone for their support. "It's been a wonderful experience," she said. "I wouldn't trade it for anything."
She finished her GSC career ranked fifth in all-time 3-point field goals, seventh in assists and seventeenth in steals.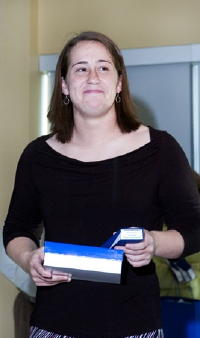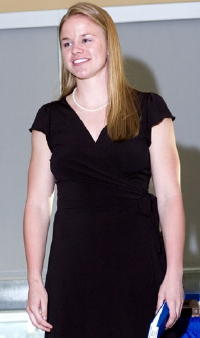 Christy Alltop (L) and Lauren Strong (R)
Lauren Strong was the "Holy Terror" for the opposing point guard, Fitzpatrick said. Much of the Lady Pioneers strategy was anchored on Strong's defensive skills. Strong finished her career fifth in all-time assists, fourteenth in 3-point field goals and fourth in steals.
Strong thanked everyone and, like several others, was gripped with emotion as she spoke. "I really don't think there's any Division II team in the nation that gets as much support as we do."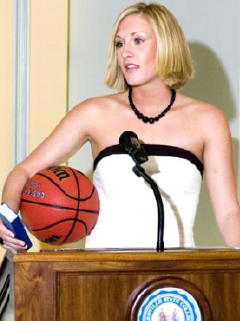 Casey Taylor
Casey Taylor was widely believed to be the overall most improved player on the team. Fitzpatrick told the audience anytime Taylor had the ball she was a "scoring" threat to opposing teams - from underneath to 20 feet out.
During her career at GSC she shot 51-percent from the floor, scoring 1,499 points. She hit 230 of 290 foul shots, is tenth in all-time rebounds, sixth in steals and sixth in scoring.
"I'm so blessed to be here," Taylor said. "I'll miss every single one of you. Thank you."
All of the seniors thanked their families for supporting and sharing in their efforts at Glenville.
The Lady Pioneers individually and collectively garnered more awards and honors than any other team in the history of the college. Rachel Redick, Casey Taylor, Karina Kendrick, a junior, and Melanie Oliver all received multiple honors.
Karina Kendrick, Rachel Redick, Lauren Strong and sophomores Christine DiSabato and Mallory Menendez were named to the GSC Athletic Academic Honors List.
Former coach Steve Harold was named conference, regional and WBCA coach of the year.
Near the end of the banquet Rachel Redick presented the Billy Frashure Heart and Hustle Award to Lauren Strong.
"It's not only an honor to be around these young women, but it was a privilege to be part of the team," Coach Fitzpatrick said.
Glenville State College President Peter Barr predicted these young women would continue to be successful in life because they are good citizens and good people. "They are kind, generous and give to the community," Barr said.