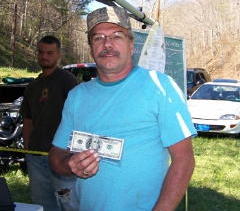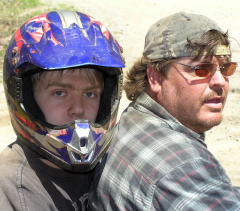 First place winner Bob Richards (L) of Akron, Ohio - Second place winner was Sam Kiddle (R) of Parkersburg, shown here with his dad, Alan Kiddle
Submitted by Judy Powell
Saturday was a beautiful day for a poker run with riders and participants of almost 200 people.
The event was a fundraiser for the Calhoun County Wood Festival.
Men and women participated in the muddin' ride. The riders commented on a good trail and the fun of riding ATVs and ask when the next run will be held. There were riders from the lower part of the state and as far north as Akron, Ohio.
The winner was Bob Richards of Akron, Ohio. Second place winner was Sam Kiddle of Parkersburg, WV. Third place went to Lester Shaffer of St. Marys, WV. The 50/50 winner was Lee Gough of Parkersburg.
The Wood Festival committee would like to extend a very special thanks to Jason and Lisa Walker, and "The Land Lady" Pat Laughlin for sponsoring the Poker Run, as well as Holbert's Store for donating the door prize.
Special thanks also to Eugene King, Joe Hersman, Bryan Toney, Jim McCormick, Henry and Brenda Sinnett, Bronson and Alice Hickman, Tina Dawson, and Cam Blankenship.
Thanks to all the riders for their support of the Calhoun County Wood Festival.
SCENES FROM THE RUN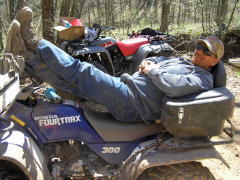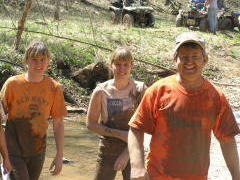 (L) Leonard Oshell takes it easy after the run
(R) Eugene King and daighters get a little muddy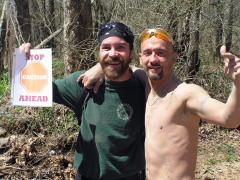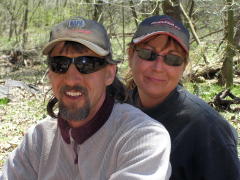 (L) Cam Blankenship (L) and Craig Conrad - (R) Kenny Norman and rider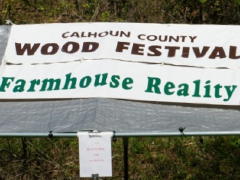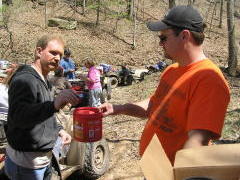 "The Land Lady" Pat Laughlin sponsored the
poker run - Bryan Toney (R) at the 3rd stop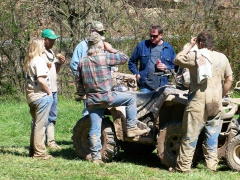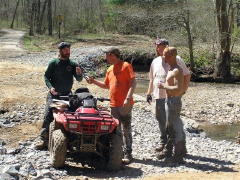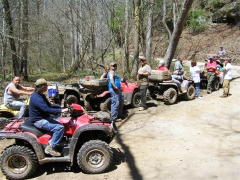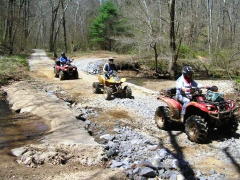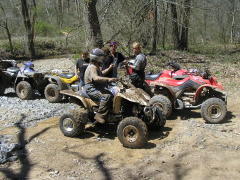 Photos courtesy of Judy Powell and Paige Toney