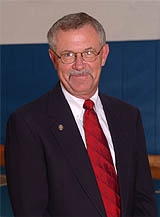 Glenville, WV - Glenville State College officials have announced the name of the school's Interim Head Women's Basketball Coach and Interim Athletic Director. GSC President, Dr. Peter Barr, today said, "Longtime Assistant Women's Basketball Coach Dennis Fitzpatrick will fill the positions until a permanent replacement is chosen."

This announcement comes following GSC Head Women's Basketball Coach and Athletic Director Steve Harold's resignation from both positions in order to pursue other opportunities and further his coaching career. Fitzpatrick said, "I am honored I was able to work under Coach Harold for nine years and for him to have been my mentor. I feel very comfortable in both positions, will do both jobs the best I can, and strive to continue the Pioneer Athletics tradition that's been started here."

Fitzpatrick helped coach the Lady Pioneers Basketball Team to the NCAA Division II East Region Championship Title this past season, which included a trip to the Elite 8 Tournament in Kearney, Nebraska in late March. Fitzpatrick said, "As Interim Head Women's Basketball Coach, I will work hard to lead the team toward a successful next season, and as the Interim Athletic Director, I will help the college find a permanent head coach for the team."

Fitzpatrick was born and raised in the Harrison County community of Stonewood, but he has lived in Gilmer County for the last 37 years. He's worked at Glenville State College for nearly eleven years. Prior to working at GSC, he was the Assistant Boys Basketball Coach at Gilmer County High School for two years where he helped take that team to the state tournament both years. His career also includes time spent as an Assistant Girls Basketball Coach at Lewis County High School and as a former Lewis County Chamber of Commerce Executive Director.