By Drew Moody

The Pulitzer Prize winning play "Crimes of the Heart," offers a window into the lives of three sisters. Fate and their history offer a combination of unusual situations they each deal with in very different ways.

Showtimes are Thursday, Friday and Saturday nights beginning at 8 p.m. in the President's Auditorium in the administration building.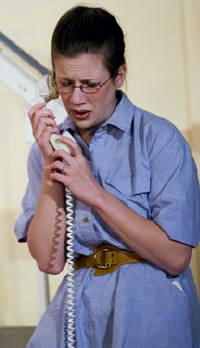 Within minutes after the curtain opens, we find it is eldest sister Lenny's birthday. "Lenny" is played by Robyn Hathaway of Elizabeth.

A cousin stops by to report the bad news about her younger sister "Babe" that made all the papers.

Turning 30 has made "Lenny" feel particularly old with a full plate of family issues to deal with.




It's "Lenny's" birthday but bad news
keeps piling up. Recent GSC graduate
Robyn Hathaway (left) plays "Lenny."
(Photos by Drew Moody)




Nikki Spangler, of Buckhannon, makes her Glenville State College stage debut in the role of youngest sister "Babe." "She's just in a different realm," Spangler says of her character. Babe is in jail when the play opens.

Veteran performer Ashley Wolfe, of Philippi, is middle sister "Meg," who has been in California for several years. Wolfe says "Meg" is the most fun of the trio.

For Wolfe, the play represents the endurance of family.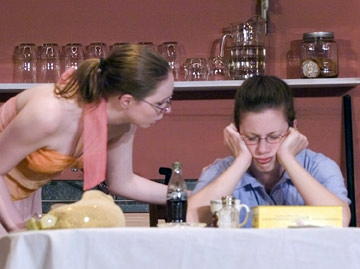 "Meg" (played by Ashley Wolfe)
comforts older sister "Lenny"
Despite acting in four previous GSC plays, Wolfe said no matter how much she rehearses she's not confident the plays will come together ... but they do.
"Even if you drop lines, you can cover it up and go on," she said.
"In the end the only one that knows there was a mistake would be you."
She scratched her head, as if on stage attempting to remember a line ... "they (the audience) could be thinking, 'Oh this is meaningful.'"
Robyn Hathaway's role (Lenny) has made her more aware of her age. A recent graduate, she's now substitute teaching in a three-county area and is the oldest member of the cast. Hathaway has been accepted into West Virginia University's Masters program in secondary education. After which she's going for her doctorate and "hinted" it would be perfect if one of Glenville's current professors would retire at the same time she finished because she'd love to return and work here.
Ashley Wolfe (Meg) is a senior with two majors, business management and criminal justice. She plans to enter the administrative side of the penal system upon graduation.
Nikki Spangler (a sophomore) is the top woman golfer at GSC and a math major. After graduation she plans on pursuing a masters at Marshall University and continuing for a doctorate.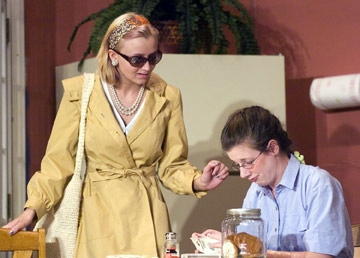 Desi Jones (left) plays cousin "Chick Boyle" who
spreads more cheer on "Lenny's" birthday during a quick
visit. Jones is a student at Gilmer County High School.
Supporting cast members are:
Desi Jones, in the role of Chick Boyle; Douglas A. Sockman, plays 'Doc' Porter; Michael Wyers, in the role of Barnette Lloyd
The play is directed by Dennis Wemm, now in his twentieth year as a member of the GSC faculty. Paul Nagy is stage and lighting crew manager. Cassandra A. Davis is property manager. Sound is being handled by Aaron Radcliff.
"Crimes of the Heart" was written by Beth Henley. It is being produced by special arrangement with Dramatists Play Service.