By Drew Moody

Sounds of musicians warming up greeted guests entering the theatre Sunday. Backstage, orchestra members were still arriving. A vocalist from Morgantown quietly read a novel, detached from the growing excitement as the beginning of the performance grew near. All around was a buzz of activity.

Six months of effort brought together professional musicians from 15 countries as distant as the former Soviet Union. Several call north-central West Virginia home. Others hail from Pittsburgh, Cleveland and one lives in California. Many of the members have toured worldwide during their music careers.

They have advanced education and performance degrees from places like Princeton University and the Royal College of London. It's a gathering of a formidable amount of talent.

It's considered typical for smaller metro areas to hire talent, much like a rock band might hire additional studio musicians to make a CD. The music selections are sent in advance and symphony members arrive prepared for the show.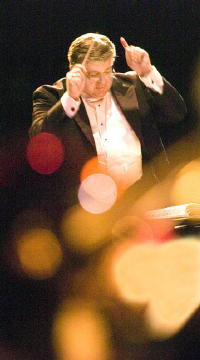 Among those whose musical career has spanned decades and been a very successful journey is Maestro John Collins. When you consider it began on a farm in Jane Lew it appears an even further one, considering his impressive history.
Collins (left) is a 1969 Glenville State College graduate in music education.
(Photo by Drew Moody)
He leaves no doubt his experiences there are still close to his heart. During a break in the concert he took time to publicly acknowledge his alma mater.
"I love teaching and I owe that to Glenville State College," he said. Collins attributed his success to the school.
"At Glenville we were just part of a family," he recalled.
One of the characteristics that has set Glenville apart from other institutions of higher learning has been the students' accessibility to instructors who have a personal interest in their success.
After graduation he taught one year in Parkersburg and then left West Virginia, for Maryland where he continued to teach until 1983.
Over the years his continuing studies took him to several states and institutions focusing on conducting, voice, music composition, and performance. He was a student of the late Dr. Frederick Fennell and Robert Shaw of the Atlanta Symphony.
Being maestro for the Clarksburg Symphony places him at the helm of his third orchestra.
Collins' teaching roots are evidenced by his efforts in reaching out to local institutions and determining creative ways to encourage younger children. On Saturday a petting zoo of musical instruments was assembled to give children the opportunity to touch and explore the instruments and talk to members of the orchestra.
Collins is also actively establishing relationships with Glenville and other colleges.
Dr. Maher, Bone and Griffin Involved
Dr. Donna M. Maher, one of Glenville State College's music instructors, is a member of the Clarksburg Symphony playing flute.
A position was offered to fellow teacher Lloyd Bone, but instead of accepting it himself he arranged for several students to join the orchestra for one of the selections.
"There's no better education than giving them that gig," Bone said.
Glenville students who joined the orchestra giving added depth to the brass section during one of the selections were Scott Smith, Joshua Brown, Stephanie Jarrell, J.D. Messenger, Catisha Scavairello, and Lindsay Burns. Glenville alumni John Lopez was also a part of that group.
Both Bone and Dr. Maher are excited about future possibilities as the college continues to work with the orchestra. There is talk of bringing components of the orchestra to Glenville next fall.
In addition, late last week Collins and Glenville State College teacher and musician Buddy Griffin began discussing a future inclusion of music native to West Virginia in a future performance.
The Concert
The classic series concert at the Byrd Theatre in Robert C. Byrd High School was well received Sunday afternoon.
Selections included: Festive Overture by Dimitri Shoshakovick, Meditation from Thais by Jules Massenet featuring Concertmaster Jason Posnock on violin, Finlandia by Jean Sebelius, Mars from The Planets by Gustav Holst and nine additional pieces.
Featured musicians in addition to Concertmaster Posnock were: Barney Culver and Susan Bestul both on cello. Vocal soloists were Rosemary Pawlosky and Roy Hage.
Dr. Roger P. Jones, assistant conductor, was featured on several pieces.
The Clarksburg Symphony Orchestra's next performance will be September 23 at the Pops Series Concert at Robert C. Byrd High School in Clarksburg. A Holiday Concert is scheduled for December 2 at the same location. Five chamber concerts will be announced. For more information or to purchase tickets call the symphony offices at 304-622-3017.