While the nation was focused on violent death in Blacksburg Virginia, with 33 dead at the Virginia Tech campus, West Virginia experienced a tragic double murder in Preston County.

Two bodies were found in an abandoned car outside of Kingwood early yesterday.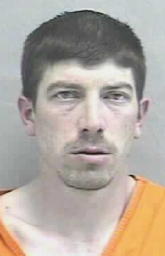 Police have charged James Louis DeGasperin (left) a teacher at Bruceton School, with two counts of first degree murder of his girlfriend Lori Casteel and her 4-year-old son Collin.
Officials said Casteel and her son lived with DeGasperin.
"They [students] all liked him," said Casey Golden, "They called him Mr. D."
The victims were badly beaten, and left in a Ford Explorer.
A neighbor told police DeGasperin said he killed Casteel by beating her with a baseball bat. He then reportedly asked for help to dispose of their bodies.
Preston County Sheriff's Deputy Jeff Brown said DeGasperin was friendly and well-liked in the area.
Officials said the 36-year-old had his own kids from a previous marriage, making these murders even more puzzling.
"I can't understand it," Golden said. "Him being a teacher, I just think there's more to it than we heard."
DeGasperin is in the Tygart Valley Regional Jail.